Leading industry expert Jason Della Rocca puts theory into action with new Montreal games incubator
Former IGDA executive director, international consultant and GRAND RMC member is cultivating a new "ecosystem" for Canada's games industry with greater support for entrepreneurship.
Posted by GRAND NCE, April 30, 2013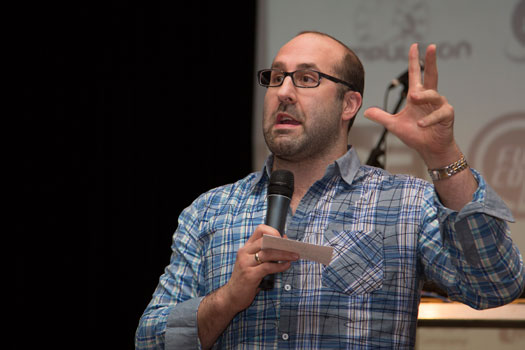 Photo courtesy of Jacob Aspler.
Jason Della Rocca believes that videogames and play can transform the world into a better place. An internationally sought-after consultant, ambassador and speaker, and arguably the most connected person in games, Della Rocca's contributions to the development of the global games industry and the creative talent of developers live up to his convictions.
For almost nine years, he served as the Executive Director of the International Game Developers Association (IGDA), the largest non-profit professional association of game developers in the world. Advocating for issues including the right to creative expression and better work-life balance at studios, Della Rocca helped establish IGDA as the leading association for developers, students and educators of game development, increasing membership from 500 to 15,000 across more than 70 chapters worldwide. For his industry-building efforts, Della Rocca was honoured with the inaugural Ambassador Award at the Game Developers Conference in 2008.
After stepping down from IGDA in 2009, he travelled the world working with governments and businesses to develop strategies to catalyze their local games industry. Since 2010, Della Rocca has also been a member of GRAND's Research Management Committee, a team of academic and industry advisors who provide strategic direction to the network's research program.

Most recently, Della Rocca combined his expertise with industry veterans Alexandre Pelletier-Normand and Keith Katz, along with the support of $1.4 million in venture funding, to launch the Executions Labs games incubator and go-to-market accelerator in November 2012. The Montreal-based company provides the space and resources for early-stage teams to become viable commercial studios. Participating teams receive seed funding, office space, development tools and support from mentors to help manage the process of creating and marketing games. Funds are also available for marketing and support for customer acquisition and live operations. In return, Execution Labs receives an equity stake and revenue share proportionate to its level of investment.
"The motivation to start Execution Labs was to provide a platform for experienced developers to become first time entrepreneurs. Where they could have creative independence, own and control their intellectual property, and determine their own destiny."
Local indie entrepreneurs to play a bigger role in new industry ecosystem
The idea for the incubator germinated during Della Rocca's years as a consultant. His firm, Perimeter Partners, provided "a very niche consultancy," namely strategic-level counseling to high-profile clients such as governments and economic development agencies on how to develop game industry capacity.
Many of them, he notes, knew little of how the industry actually worked, and took a largely top-down approach, looking to attract large anchor tenants such as Ubisoft or EA to stimulate jobs and growth. "I would get calls from governments all over the world looking for advice on implementing a cluster strategy. I said: "What you need is to build things from the ground-up and support entrepreneurship."
Specifically, Della Rocca advocated investment in local startups and independent developers that would give them the resources to produce games and bring them to the market. The concept parallels other incubators and accelerator programs more broadly in web and tech sectors like Y-Combinator and TechStarts.
Canada's own strategy to grow the games industry has also tended to focus on attracting large triple-A production studios. Today, with the closure of several major studios in Vancouver and Montreal, this industry model is in a precarious state.
Della Rocca co-authored GRAND's milestone 2010 SSHRC report "Computer Games and Canada's Digital Economy: The Role of Universities in Promoting Innovation," as well as helped collect input from 307 companies and 25 industry interviews. The report took stock of the computer gaming industry in Canada, which was by then on the verge of a huge shift with big budget, console-based retail products giving way to digital-only mobile, social, and web games offered as ongoing services.
Since then the shift has become even more pronounced, and in its wake indie studios are finding new opportunities to gain a foothold in the market. What concerns Della Rocca is whether the old model, with its tax breaks and other incentives targeting the big studios, is neglecting emerging independent companies.
"Games as a form of entertainment, as an art form, have been on a nonstop growth curve in the aggregate for decades," said Della Rocca. "On the whole, things will continue to grow and succeed, it's just a question of shifting markets and actors, and part of what we are trying to do is enable that shift to occur under our own direction."
After advocating for seed funding and startup incubation models at a conceptual level internationally, Della Rocca was approached by Quebec investors who convinced him to devise a plan to do it for real in Montreal.
"Even though I was doing meaningful work as a consultant, it planted the seed in my heart to say, wait a second – this could work in Montreal. It could work in Canada," Della Rocca said. "I saw a vision of it in my mind that was awesome."
Della Rocca takes a holistic view of the industry shift, arguing that policy and investment should be used to create a "healthy games ecosystem" – one with room for large, mid-sized and smaller games studios alike. The bankruptcy of a big company is painful, but out of the displaced talent, he adds, there can emerge twenty new companies.
"Although I've been very pro-indie, I'm not against large studios. For me it's a question of balancing the ecosystem, so that you have the big giants, but you also have things filling in at every level. As the market shifts, you want a very diverse and varied ecosystem, and they all play a role, they all contribute symbiotically."
Academic research and games industry in a serendipitous partnership
Perpetually hungry to hire talented, qualified students, the games sector has in recent years relied upon academic institutions to train graduates with the right skills. "If you look back ten or twelve years, there were almost no schools offering game-related education. So, academia turned to the industry for some sense of standardization and guidance," said Della Rocca. He helped develop some of the earliest curricula for game development programs, including leading IGDA's Special Interest Group on Education, formed in 2000 – an unprecedented effort to initiate interaction between industry and academia.
On the research side, incentive systems, IP rights, monetization and out-of-sync time cycles remain some of the toughest encumbrances of industry and researcher partnerships, according to Della Rocca. Still, he is confident that more will come from ongoing collaboration. "I've always been a blind believer that if you keep your toes in the water, stuff will happen – almost with a serendipitous mentality."
To this effect, Della Rocca has also been instrumental in engaging industry with a number of GRAND's games-focused initiatives and projects.
In 2012, he helped initiate a unique internship program at Funcom's Montreal game studio. The non-commercial program involved ten students working closely with professional game developers to take a game concept to playable prototype in ten weeks. The immersive experience provided valuable industry experience for the interns and interesting insights into the game development process for researchers who conducted an ethnographic study of the internship team.
Even within Execution Labs itself, there has been an embedded researcher from day one. GRAND Post-doc Jennifer Whitson from Concordia University's Technoculture, Games & Art lab spends 20 hours a week studying indie studios in the program, looking for patterns as the startups balance the challenges of being creative and commercially successful.
Della Rocca has also taken an active interest in furthering game studies, helping researchers such as University of Alberta professor Dr. Geoffrey Rockwell and Dr. Sean Gouglas connect with developers around the world. Rockwell is currently collaborating with Della Rocca on a series of interviews with Japanese game developers as part of his study of Japanese game culture, and helping to organize a major inter-cultural games research conference in Banff planned for 2014.
"Jason's expertise and experience in the game industry seems boundless. He seems to know everybody and be respected by everybody in the games industry," said Gouglas. "He has been essential in building bridges between business leaders and our research team."
"Jason introduced us to designers in all the major cities and companies allowing us to develop a picture of the industry," said Rockwell. "He seems to know everyone and has their respect. He cares about the industry and about people."
-30-
Contact:
Spencer Rose
Communications Officer
GRAND NCE