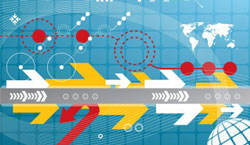 GRAND researchers submitted Computer Games and Canada's Digital Economy: The Role of Universities in Promoting Innovation in response to the federal government's open call for input on strengthening Canada's digital economy. The report, based on 307 companies and 25 industry interviews from across the country, covers a lot of ground and demonstrates clearly why the video game industry is one worth getting to know.
Sean Gouglas, Jason Della Rocca, Jennifer Jenson, Kevin Kee, Geoffrey Rockwell, Jonathan Schaeffer, Bart Simon and Ron Wakkary authored the report funded by SSHRC (Social Sciences and Humanities Research Council of Canada).
The video game industry represents a critical engine of digital society and represents a Canadian success story. The Canadian industry is worth $2 billion, employs 14,000 people and is the third ranked game producer in the world, after the US and Japan.
Video games are expanding their reach beyond the stereotypical teenage male demographic. Did you know 38% of gamers are female? The industry has branched out into what is called "serious games". Using game technology, "serious game" applications are geared towards healthcare, education and environmental sustainability.
Video games are a coast-to-coast industry. From the Western provinces to Atlantic Canada and everywhere in between, there are large companies like EA, Ubisoft, and Disney, as well as a number of highly successful entrepreneurial start-ups.
In the same way that the industry is located across Canada, it is also cross-discipline. The industry is defined by a wide-ranging mix of talent and expertise: programmers, artists, animators, designers, writers, project managers, plus, angel investors, sales and marketing specialists and business development experts.
Now, you may be asking yourself, "Where do universities fit in this picture?" Universities offer specialized expertise, a robust interdisciplinary curriculum and the ability and timeline to pursue outcome-driven research.
Still, there are a number of challenges that stand in the way of effective industry-university relations. This no-holds barred report itemizes the barriers to collaboration. Conflicting work schedules, an IP disconnect, and, at times a deep disregard for each other's problems, are issues that need to be addressed.
Notwithstanding the not so inconsequential obstacles, the report goes on to say that industry and universities (especially those interviewed in this report) demonstrate a genuine desire to iron out differences, wherever possible, and work together.
At the end of the day, it comes down to building sustained, consistent and productive relationships. To that end, perhaps some serious game-time is in order.
To find out more about the dynamic world of video games and the role of universities, please read Computer Games and Canada?s Digital Economy: The Role of Universities in Promoting Innovation.
For key industry facts, read Essential Facts 2010, published by the Entertainment Software Association of Canada (ESA).