GRAND-Funcom mentorship offers bona fide introduction to game development
An intensive ten-week program piloted by GRAND and international game developer Funcom last summer shows how interns and game studios can get more out of internships.
Posted by GRAND NCE, February 10, 2013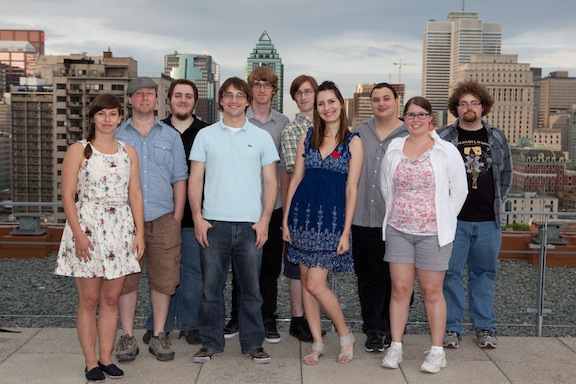 The 2012 GRAND-Funcom Games Initiative Team.
With an estimated 77% of Canadian gaming companies looking to hire new graduates in 2013, it's not surprising many turn to Canada's thriving video game industry to start their careers. Yet traditional academic training seldom matches the skills and real-world experience valued by employers that is needed to push a game to completion. Students therefore turn to internships to fill the educational gap.
But at large studios interns are frequently dropped into projects mid-stream, assigned tedious or unchallenging tasks, while rarely seeing the finished result. University semesters are also out of sync with the pace of game development, especially when studios try to integrate interns, leaving them little time to learn the full development cycle.
Looking for a better way to engage interns, GRAND and international MMO (Massively Multiplayer Online) game developer Funcom piloted an intensive ten-week program in Montréal last summer that went well beyond the standard internship experience. Ten participants (3 programmers, 2 artists and 5 designers) were given full creative control plus the resources of a professional game studio to develop a design concept into a playable prototype. The goal: to assess how well the program developed participants' core game design competencies and industry readiness, but also to help sociologists in the GRAND network better understand what makes game design teams "tick."
"While there is certainly a place for workplace experience, we wanted to go beyond that and provide an environment that would actually place responsibility on the students and entrust them with a challenge," said Funcom Executive Producer and Game Director Craig Morrison, who helped initiate the strictly non-commerical project with GRAND. "By making the project self-contained, and then allowing the students to have ownership over their own progress, we provided an experience that we felt gave a genuine insight into the mechanics and process of game development."
Game development from the ground up
Equipped with hardware, software and office space at Funcom's Montréal studio, the team received limited guidance from senior designers, while facing many of the real and complex challenges to developing games that required their collective skills to solve. As well as providing the initial design concept, Funcom assisted the team in overcoming some of the common obstacles to meeting milestones. Program organizers also made sure the team felt part of Funcom's professional work environment, even if separated from the studio's main projects.
"The Funcom approach was really one of being thrown into the deep end – there was no instruction and a little mentoring but serious deadlines and a tangible product," said Dr. Bart Simon, a PNI with GRAND leading the DIGILAB project, and the Director of the Technoculture, Arts and Games Research Centre. Simon helped organize the pilot with Morrison. "I think part of what really made the team get the most out of the experience was the feeling that they were in a real game studio surrounded by professional developers. We were really able to see the value of this in terms of core skills development including social skills like team collaboration and leadership."
The finished game, Dungeons of Londree, received rave reviews from the Funcom developers, surpassing expectations in both playability and scope, which Morrison attributes to the remarkable self-sufficiency and self-motivation of the team.
"By focusing the students on an existing goal we gave them the space to pour their energies into the process and implementation. It taught them about co-operation and planning, and the type of team dynamics that they can expect to encounter in the industry," he said. "We were impressed with the goals and ambitions of the GRAND network, and the collaboration and organization went very smoothly. A great deal of the credit goes to the students, who took the opportunity and were a credit to their institutions and themselves."
Connections to industry invaluable for interns
For participants, the initiative also delivered more than expected, with many now engaged in new game-related pursuits. Intern Andrew Kozloski, for example, co-founded next-level games start up Miscellaneum Studios last fall through the support of Montreal-based indie game incubator Execution Labs. Others have gone on to work at leading game companies and start ups.
"This internship was really a huge step in preparing [me] for real-world work that soon came after – what we did at the internship, I can safely say, is exactly what I'm doing now." said Colin Kirk, now working at a start-up company in Toronto. "I got to experience the game industry with some of the best people out there, not only that but solidify my choices in a career. Meeting all sorts of people, with all kinds of jobs really helps you figure out where you want to be."
For Francis Sheridan Paré, the program made the decision to continue with game design definite. "It pretty well killed all the little doubt that I had left that I could be a real game designer or level designer. At the end, I was sure I could do it, since I had been able to do it for ten weeks."
Networking opportunities with local game developers and researchers also added tremendous value to the experience for interns, who took part in studio tours and events organized by the IGDA and Concordia University's TAG (Technoculture, Art and Games) lab.
"Probably the most important thing I gained from the Initiative, even more than the raw experience, was the opportunity for professional networking," said Colin J. MacDougall, now a programmer at Electronic Arts. "I can't stress enough how incredibly useful it is to know people, or at least have their contact information."
Dungeons of Londree study start of new research for sociologists

Making the project non-commercial was critical to its success, according to Simon. It allowed GRAND and Funcom to circumvent potential complications around ownership and intellectual property rights, as well as the common pitfalls in dealing with proprietary information, security, and NDAs (Non-Disclosure Agreements).
It also allowed Carleton University researcher and GRAND HQP Jennifer Whitson to take an inside look into the making of Dungeons of Londree as part of a sociological study led by Simon to examine the role of software in mediating the team design process. As an embedded ethnographer, Whitson's weekly observations included recorded interviews with team members and video-recordings of the development process. She also helped team members make the most of their experience at Funcom.
"I think we also learned by accident the value of having Jen there as a kind of observer, bystander, kind ear and host – she was able to help the group to gel outside the studio and introduce them to Montreal games research scene a little bit." said Simon.
Whitson, who is set to co-publish her findings with Simon in the coming weeks, appreciates the rare glimpse into game studio culture offered by the project - one typically unavailable to humanities and social science scholars.
"The GRAND Funcom project was really a key access point for my research on the daily work of developers and the larger economics of digital media industries," said Whitson. "My involvement opened the door to opportunities that would not exist otherwise." Simon and researchers in the DIGILAB project are looking at future ethnographies at larger studios.
Program a model for future internships
Given the success of the pilot, Simon and Morrison believe other studios will be interested in the low-risk, low-cost internship model that benefits both the company and interns. Once IP concerns, project financing and intern compensation have been sorted out, Simon envisions the Funcom initiative as a basis to train HQP in the GRAND network, as well as other students and recent grads.
"The studio gets the benefit of seeing first hand what prospective employees are capable of. It's also a way of allowing the studio to be surprised by the work the students come up with. And while I'm not convinced that most industry game developers have quite as much creative freedom as the Funcom team, the experience still provides great insight into what such a career path ideally involves."
Morrison is similarly optimistic: "I think this kind of a scheme has fantastic potential. There are still some challenges to overcome, but I genuinely feel like we have provided a template for the future with this program."
Contact

Spencer Rose
Communications Officer
GRAND NCE