Adventure game co-developed by University of Alberta student wins Intel Level Up and top recognition at the 2013 PAX Prime
University of Alberta master's student David Holmes and his game development team have launched a new start-up to commercialize their award-winning video game Life Goes On.
Posted by GRAND NCE, October 3, 2013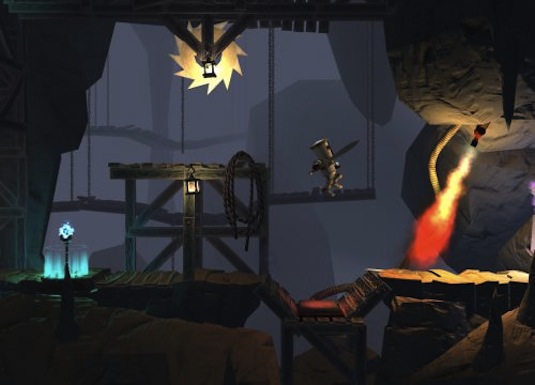 Life Goes On requires that players sacrifice their characters to complete each level. Courtesy: Life Goes On website.
(Vancouver, BC) First developed at the 2012 Global Game Jam, the puzzle-based adventure game Life Goes On has since become one of North America's top up-and-coming independent games.
David Holmes, a master's student at the University of Alberta, along with four others, created the initial game demo in just 54 hours. Since then, Life Goes On has won an Intel Level Up Award and was one of the top games at the 2013 PAX Prime – one of the largest game conventions in North America. Interest in the game continues to grow, and the team is set to officially release it in January 2014.
"We've been developing it for a year and a half now, and we've consistently received positive feedback on the demos we've released," said Holmes, who is a co-producer, marketer and sound designer for the game.
Originally based on the Game Jam's theme of Ouroboros – a symbol of the cyclical nature of life – Life Goes On is a puzzle game with a twist: the only way to solve the puzzle is for the protagonist to die. The game characters, cast as medieval knights, have the unusual ability to reincarnate and use the bodies of dead characters as means to overcome obstacles and dangers. Players, for instance, can use dead characters' bodies as platforms to pass over deadly spikes. The macabre game encourages players to shift their perspectives on gaming tropes by re-evaluating their conceptions of character death in order to solve challenging puzzles.
Holmes' team submitted its demo to the PAX 10 competition at PAX Prime in Seattle. The competition's panel of 50 industry experts selected the ten best independent games based on gameplay and entertainment value from more than 100 submissions. Life Goes On placed highly in the competition.
The game went on to win the 2013 Intel Level Up award for Best Character Design at Intel's independent game demo contest. A panel of respected game industry external judges selected Life Goes On from nearly 100 submitted game demos. As a side result, the game was accepted on Steam, a popular digital distribution platform.
The team was also invited to the Indie MEGABOOTH, a collection of independent game developers presenting the latest and greatest indie games at PAX. Consumers and industry representatives there provided valuable feedback about Life Goes On.
"We wanted to see industry reaction to our game, and to understand whether this was something we could take to market," said Holmes. "Having these people who are well-established in the industry play your game and tell you what they like about it – that was a really rewarding experience. It provided serious validation that we were on the right track."
The Life Goes On team incorporated their studio, Infinite Monkeys Entertainment Ltd., in May 2013 and is set to officially release the game in January 2014.
"If [Life Goes On] sells well, I hope we can make another game. I like my team. We come up with some really creative ideas."
Game developed through GRAND support
Holmes, a student in the U of A Humanities Computing (HuCo) Program, joined GRAND as an HQP in his first year under the supervision of Dr. Sean Gouglas. He has worked on a number of network projects with both Gouglas and Dr. Geoffrey Rockwell, both PNIs in GRAND. Gouglas and Rockwell also supported the development of Life Goes On, in part, through GRAND funding.
"The HuCo program is fantastic. Digital methods allow you to investigate aspects of the humanities that wouldn't have been otherwise able to do," said Holmes. "The program gives students the ability to look at the humanities in new ways." For his thesis, Holmes is developing a "relatively historically accurate" WWII video game as part of his exploration of historical accuracy in games.
Holmes was also one of ten interns selected for the 2012 GRAND-Funcom Games Initiative: a hands-on, industry-focused project borne of a unique partnership between GRAND and Funcom, an international massively multiplayer online game developer and publisher.
"The [FunCom Initiative] was immensely helpful, both in terms of my personal research with my thesis, but it also really showed me what being a producer was like, and what it's like to work with a creative team."
In other GRAND activities, Holmes was a primary developer for the U of A-led fAR-Play, a geo-locative game engine developed through GRAND's PLAYPR project. Working with Gouglas, he also contributed to the FemShep project in collaboration with Edmonton game developer BioWare. FemShep is looking at gender biases in games and the significant attachment players have to their avatars in computer games.
"Sean and Geoffrey push me to use my GRAND research to publish papers, and to look back and reflect on how it has affected my overall development as an academic," Holmes stated. "I think GRAND has been incredibly supportive. Being in the network has absolutely affected my research and my professional development for the better."