Events Archive
Event Details
GRAND Digital Health/E-Health Forum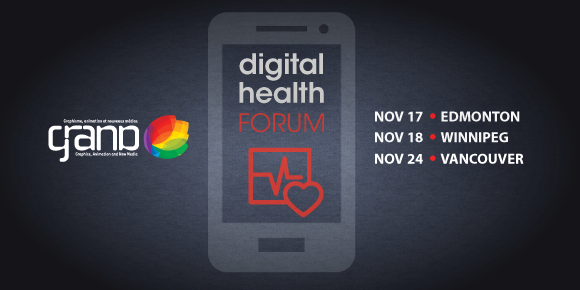 Due to an overwhelming response from interested attendees to participate in the GRAND Digital Health Forum we must change the venue location. The new venue location at the University of Alberta is:
University of Alberta Conference Centre
2nd Floor, Wild Rose Room
1-047 Lister Centre
Edmonton, Alberta
Please mark this location in your calendar. Ample parking directly outside the centre. If you need assistance in locating the venue please contact: 780-492-6051
GRAND NCE is pleased to host Industry-Academic Digital Health/E-Health Forums in Edmonton (Nov 17), Winnipeg (Nov 18), and Vancouver (Nov 24). These free events offer digital health/e-health researchers, health care professionals and digital health developers an opportunity to network and discuss industry-academic collaborations, as well as exchange information on the latest research initiatives and advances in digital/e-health.
The following subjects will be covered:
Mobile health solutions
Big data in healthcare
Gamification
Innovative sensor applications for diagnostics and healthcare
Health simulations and training applications
Virtual Simulation
Digital Health Startups
Faculty and students interested in speaking or presenting a poster relating to current or past work on the above subjects are welcome (Please contact organizer Mark Salopek for more information). Lunch and refreshments provided.
Upcoming Forums
Edmonton

Venue:
University of Alberta Conference Centre
2nd Floor, Wild Rose Room, 1-047 Lister Centre

Date & Time:
November 17, 2014 (8am - 4pm)

Winnipeg

Venue:
St Boniface Hospital Research, Samuel N. Cohen Auditorium, 351 Taché Avenue, Winnipeg, MB (Map)

Date & Time:
November 18, 2014 (12:30pm - 4pm)

Vancouver

Venue:
UBC Robson Square, 800 Robson St, Vancouver, BC (Map)

Date & Time:
November 24, 2014 (8am - 4pm)