Events Archive
Event Details
WSSF 2013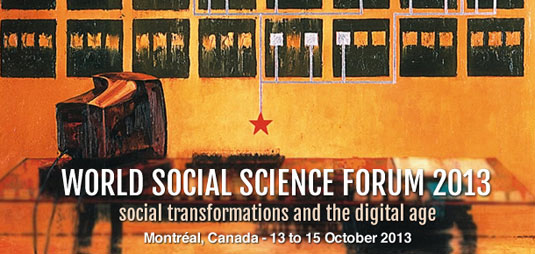 Join us at the upcoming World Social Science Forum in Montreal. GRAND will be hosting an exhibition booth to connect with WSSF attendees interested in learning about our research network.
GRAND will also be hosting a public discussion in the "Agora" space led by Jason Della Rocca, member of GRAND's Research Management Committee and co-founder of Execution Labs, a game incubation studio in Montreal. Della Rocca will be speaking on Digital Games, Social Science Research, and the Indie Game Movement, looking at the challenges faced by the indie games movement in Canada and how how on-going research in the Social Sciences can help ensure Canada's place as a world leader in game production.
As well, GRAND Board Member and President of OCAD University, Dr. Sara Diamond, will be taking part in the Participatory Dynamics for Change speaker panel.
The World Social Science Forum series are occasions to demonstrate the global presence and authority of social science. The Forums offer a cross-disciplinary and cross-regional platform for social scientists to exchange ideas on new approaches to global priority problems, and they provide an occasion for scrutinizing conceptual frameworks and examining established practices.
The International Social Science Council (ISSC), assisted with a consortium headed by the secretariat of the International Political Science Association, will convene its second World Social Science Forum, to take place in Montréal, Canada, in October 2013, under the theme "Social Transformations and the Digital Age". For the occasion, around 1000 delegates from more than 80 countries will be brought together in Montréal to discuss about the most recent developments and impacts of the newest digital technologies on the practice and teaching of social sciences.
Through its international recognition, the World Social Science Forum brings together renowned experts from around the world looking to promote and vulgarize their research that integrates social sciences and new technologies.