Nancy Knowlton and David Martin
2014 Canadian Digital Media Pioneer Award Co-Recipients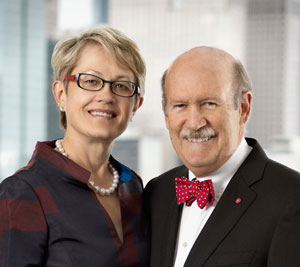 Photo courtesy of Byye Labs.
Nancy Knowlton and David Martin are entrepreneurs and Canadian Digital Media Pioneers. Their impact in digital media has been profound across Canada and internationally. They recognized in the 1980's the potential of touch-based interaction and together they co-founded SMART Technologies. Because of their insight and leadership, SMART's large touch displays are now in use worldwide.
Long before advanced touch technologies became commonplace, David and Nancy believed that large, touch-sensitive information displays and accompanying software had the potential to be an important technology. Together they founded SMART Technologies, Inc. in 1987, where they brought their vision into market. Under their guidance, SMART products were created that embodied the essence of digital media. Products ranged from a large variety of single-touch and multi-touch displays designed for boardrooms and classrooms, to digital clickers that allow multiple students to share a common display, to software specifically designed to support collaborative work, education, screen sharing, public presentations, and brainstorming. Over the years, these innovations became standard fixtures in many places, but especially in schools - 90% of the classrooms in the UK are equipped with SMART products.
Beyond simply building products, David and Nancy have had profound influence mentoring and inspiring Canadians in high technology. As members of numerous panels, boards, and advisory councils, their vision has helped shape thinking around technology ranging from the grass roots level up to the provincial and federal policy level. They have also been steadfast supporters of university-based research. They and SMART Technologies Inc. have been deeply involved in directly supporting a number of international research conferences, as well as providing cash and in-kind support for individual and group research grants across Canada. Perhaps the best examples of this are their encouragement and support for two NSERC strategic networks, NECTAR (Network for Effective Collaboration Technologies through Advanced Research) from 2004-2009, led by Dr. Ron Baecker, and SurfNet (network for surface computing interfaces and software engineering) from 2010-2015, led by Dr. Frank Maurer.
Their individual awards are many. These range from local Canadian awards to international awards, such as David Martin's Alberta Centennial Medal for High-Tech Innovation and his 2004 Canadian Advanced Technology Alliance Award for Private Sector Leadership in Advanced Technology. Nancy Knowlton has been recognized as one of Canada's top businesswomen. She was the 1999 Canadian Woman Entrepreneur of the Year in the Export category, and was awarded an honorary Doctor of Commerce degree from Saint Mary's University and Bishop's University in recognition of her many business accomplishments. In 2002 they shared a prestigious Manning Innovation Award. Most recently, in 2013, David was recognized for his service to education and named an Officer of the Order of the British Empire (OBE).
Embracing both the commercial and academic communities, they constantly strive to give back some of the resources and knowledge they had gained. They founded The SMARTer Kids Foundation in 2003 to provide grants that reduce the price of SMART products to all accredited, not-for-profit educational institutions, museums, libraries, and home schools in the United States and Canada. Their vision continues today. They recently co-founded BYYE Labs, an innovative company whose goal is to affect new and emerging digital technologies. It is for their sustained innovations and entrepreneurial contributions to the digital media industry that Nancy Knowlton and David Martin are recognized as a Canadian Digital Media Pioneers.
Biographies
David Martin received his BSc in applied mathematics from Concordia University in 1971 and began his professional career as a statistical analyst at Bell Canada. He then worked as the Western Division Manager for Rio Tinto North American Services Limited for five years before co-founding Keyword Office Technologies Limited in 1978, where he was Executive Vice President. After a 16,000-kilometre road trip with his wife Nancy during which they envisioned an innovative system that fused the best from television, computers and the Internet, they co-founded SMART Technologies Inc. in 1987 where he served as Executive Chairman until 2012. In 2012 Martin co-founded the Byye Group with Nancy Knowlton, where he is Executive Chairman and CTO while continuing as Chairman for SMART.
Nancy Knowlton received a Diploma of Collegial Studies and a Bachelor of Business Administration from Bishop's University, as well as an MBA in marketing and finance from Saint Mary's University. Both universities have bestowed Knowlton with honourary doctorates. Knowlton taught accounting and computer science at Saint Mary's and qualified as a Chartered Accountant in Alberta in 1982. She went on to become Senior Manager at an international accounting firm in Calgary. As Co-founder, President and CEO of SMART Technologies Inc., she was instrumental in growing the company from a start-up to almost US$800 million of annual revenue before resigning in 2012. She has garnered multiple awards (see above) for developing export markets, technical innovation, and business leadership. Globally recognized as an expert in education and classroom technology, in 2002-2003, Knowlton joined a nine-member independent commission to review Alberta's basic education system, and has spoken around the world on the topic of the 21st ­century classroom. She currently serves as the President and CEO of The Byye Group.