Researchers show haptic feedback can improve notifications in wearables
New algorithm developed by GRAND researchers at McGill University would allow more restrained and potentially more power efficient haptic feedback.
Posted by GRAND NCE, November 6, 2015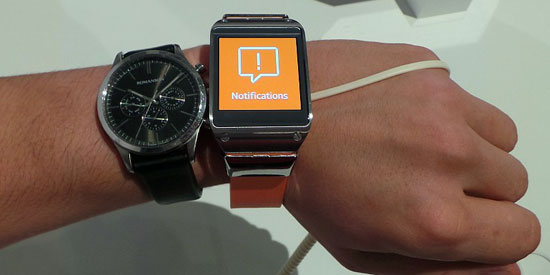 Image courtesy of Wikipedia
It's common etiquette to switch our smartphones (or smartwatches) to "vibrate" at the movie theatre or at the start of a meeting. These discreet "haptic alerts" keep us aware of incoming calls or messages without interrupting whatever we are doing or whomever we are with.
But subtle alerts may go unnoticed during energetic activities such as jogging and biking, whereas more intense notifications may be annoying or jarring in quieter settings. In fact, creating notifications that are noticeable but not overwhelming has been a long-standing goal of haptic research.
"I think we've all had the experience of hearing someone's device loudly vibrating in a quiet conference room, even though vibration is supposed to be subtle," says Jeffrey Blum, a doctoral student and GRAND Scholar at McGill University's Shared Reality Lab. "Current wearable devices typically vibrate very hard for notifications to ensure they are felt even if the user is, for example, out walking or riding a bike."
Now Blum and GRAND researcher Dr. Jeremy Cooperstock have developed an algorithm that uses haptic feedback to predict whether a notification will get noticed – an improvement over the current "one size fits all" approach.
"By using accelerometers already embedded in many wearable devices to monitor the user's motion, we can know whether a given vibrotactile stimulus is likely to be perceived," explains Blum. "We can then adjust the stimulus to an appropriate level that will successfully notify the wearer, but not be unnecessarily or annoyingly strong."
The study, set to be presented at the ACM Symposium on User Interface Software and Technology (UIST) in Charlotte, N.C. this November, also promises to improve the power efficiency of devices, as manufacturers would be able to put smaller, lower power actuators into their wearable devices. The submitted paper is available on the ACM Digital Library.
"By monitoring the user's motion, the system can know if the vibration will be missed even if the smaller motor is run at its maximum intensity. The system can then wait to see if motion subsides to a level where the actuation will be successfully perceived, or if it can't wait, pick another notification method such as a sound, or actuate a larger vibration motor in the connected phone itself rather than the smaller wearable device."
Encouraged by their findings and the commercial potential, McGill has filed a provisional patent with Blum and co-researchers in GRAND.
Blum's current research was motivated by his doctoral work in GRAND's SHREXP project, which explores ways to connect two people via haptic feedback on an ongoing basis. The research was presented in a Research Note at the GRAND 2014 Annual Conference in Ottawa. Blum was voted Best RNote Reviewer at the conference.
In 2014, Blum was selected for the GRAND Postgraduate Scholar (G*PGS) program, created to provide financial support for graduate students whose research is directly linked to core GRAND research.
"Being able to meet and collaborate with students and researchers throughout Canada, [has] helped to focus and drive my research direction," says Blum. "It is amazing how much work in haptic and mobile technology is happening here in Canada, and GRAND was the main method by which I met and collaborated with researchers outside of the Montreal area."