SFU students in GRAND score Best Game and the Microsoft Surface Award at the UNITE Conference in Seattle
Awards recognize immersive virtual reality games developed for managing chronic pain.
Posted by GRAND NCE, October 14, 2014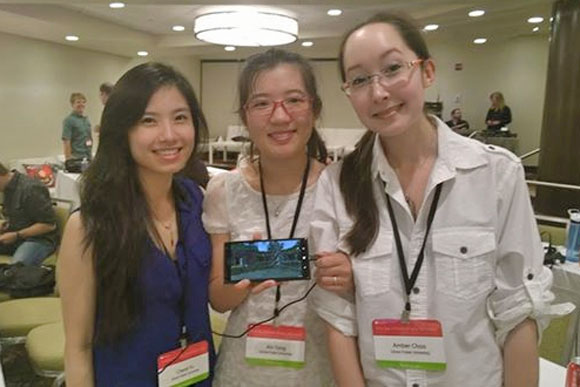 (from left) Award winners Cheryl Yu, Xin Tong, and Amber Choo at the Unite 2014 Conference in Seattle.
Simon Fraser University (SIAT) graduate students Amber Choo and Xin Tong, both researchers in GRAND, along with SFU FCAT's Undergraduate Research Fellow Cheryl Yu, won two awards at the Unite 2014 Conference in Seattle (August 20-22).
Their two-dimensional boardgame – Aztec Treasures – was voted Best Game in the Unity & Windows Training and Porting Lab. Microsoft's Surface devices were part of the award. Choo, Tong and Yu, who are Research Assistants in the Pain Studies Lab at SFU, also snagged the Microsoft Surface Award for successfully porting three Virtual Reality (VR) games and one 2D boardgame to Window's phone online application store. Each received a Microsoft Nokia Lumia 1520 cell phone. The board game was originally designed in SIAT's graduate class in video game design.
According to the Pain Studies Lab founder and director, Dr. Diane Gromala, the immersive VR games were developed "for patients who live with neuropathic or chronic pain to potentially help them manage this disease," as their early research results indicate. The management of chronic pain and diseases is one of four projects under GRAND's Health Theme, led by Dr. Gromala. GRAND researchers are also developing new applications to promote health and fitness, facilitate medical training, and support cognition, communication, accessing knowledge, and creative expression.
The UNITE conference attracted well over 1,000 attendees.