Mentorship program at SIGGRAPH introduces secondary students to a world of opportunities
Graduate students in digital media connect with local high school students at special networking event hosted by GRAND.
Posted by GRAND NCE, August 13, 2014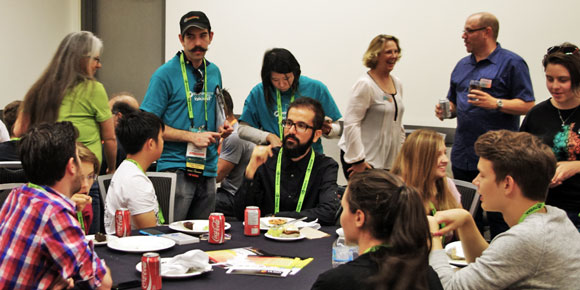 A new graduate from Argyle Secondary School in North Vancouver, Annette Cheung came to SIGGRAPH (August 10-14, Vancouver, BC) to explore the best and latest in visual effects and animation.
Cheung, along with 18 other high school students from across B.C.'s Lower Mainland, is taking part in the Spend a Week at SIGGRAPH Student Program, co-sponsored by GRAND.
Established in 2003, the successful program targets high school students who live in or near the city that hosts the annual SIGGRAPH conference. Participating students receive a free full-access pass to the entire week of SIGGRAPH, the world's preeminent computer graphics conference, and pair up with SIGGRAPH volunteers from academia and industry to help form lasting mentorship connections.
For Cheung, the experience at SIGGRAPH and the encouragement of mentor Aliza Astrachan from Side Effects Software has boosted her confidence about the career prospects in digital film as she prepares for studies at Simon Fraser University's School of Interactive Arts and Technology this fall.
"Coming to this event made it so much clearer as far as what I want to do. Now I know I can go into something like this and create something that makes it to the big screen and actually be happy about what my work is."
Kathleen Milnes, Principal Manager for SIGGRAPH's Pioneering Mentoring program, believes young students are simply unaware of the career opportunities and paths available to them in the digital media industry.
"We're trying to encourage students who might not otherwise have access to these industries, and to these opportunities, to help them see their futures," says Milnes. "It's a week of eye-opening, brain-expanding thinking – of 'oh my gosh, I could do that?'"
By connecting with university researchers and industry veterans, she claims, high school students learn about the many ways to get into computer graphics, animation, gaming, and interactive media.
"[A student might say] 'Gee, I really want to make games'. Well, imagine if you could come up with an interface that allows someone to play a game and enhance their health, or play a game and learn how to be a nurse, or play a game and understand some cultural crisis halfway around the world – the possibilities are endless."
Students this year also had the chance to mingle with GRAND researchers at an informal lunch session hosted by GRAND. Following a fun "ice-breaker" game, students talked with current PhD and Masters students about their academic experiences and the different professional paths in computer graphics and digital media.
"It creates awareness in the back of [students'] minds that they're not individual actors – there is support for people to go to graduate school to do this stuff. It shows them a career path that doesn't shut them off from what they see as the 'fun' part of these industries."
Find out more about GRAND's involvement at SIGGRAPH 2014.