Putting Toronto on the locative map
OCAD researchers in GRAND explore human dimension to mobile tech at MobileHCI 2014. Guest post by Glen Farrelly.
Posted by GRAND NCE, October 7, 2014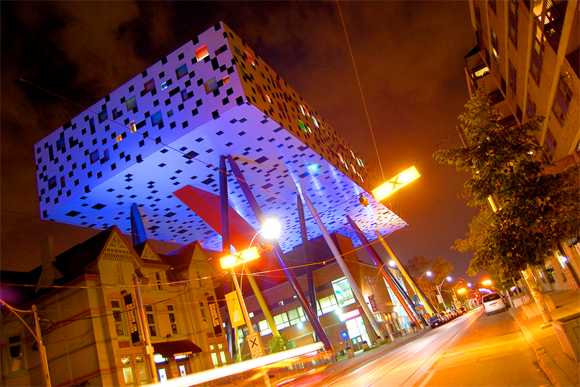 OCAD University (Toronto, Canada). Source: Wikimedia.
Marking its first time in Canada, the 16th annual MobileHCI (ACM's International Conference on Human-Computer Interaction with Mobile Devices and Services) was in Toronto last month (September 23rd-26th). The conference is a top venue for leading research and innovation in mobile and wearable technologies. Hosted by OCAD University and co-chaired by the President of OCAD and GRAND Board Member, Dr. Sara Diamond, this year's event showcased some of Canada's foremost research in the field. In the following guest article, University of Toronto doctoral student Glen Farrelly discusses People, Places, and Things – A Mobile Locative Mapping Workshop organized by OCAD professor and GRAND researcher Dr. Martha Ladly with GRAND student researchers Bryn Ludlow and Guillermina Buzio.
This article by Glen Farrelly originally appeared on Webslinger. Reposted with permission.

It seems that in tandem with the growing popularity of cellphones and then smartphones and tablets has been the criticism that they detract us from our world. Concerns that technology distances us from the real world and our real lives goes back as least as long as the Luddites raged against the machines 200 years ago.
Technology in the form of mobile computing, cell networks, open geographic information software, and social media have come together in contemporary mobile devices and have undoubtedly impacted our relationships to the physical world in numerous ways. Mobiles have made it easier for us to stay connected to one another throughout our daily travels, to find our way in unfamiliar spaces, or to report political events to the world.
Yet much of the academic research on mobiles has neglected the human dimension and instead fetishizes technology or has shunned it all together for its perceived dehumanizing qualities. There are a few scholars who are demonstrating that mobile technology can be used to enhance or share our relationship to the physical world.
One such scholar is Martha Ladly, a professor at Toronto's OCAD university. Martha's work has explored how mobile devices can be used to share spatial stories and representations that foster people's connections to the places they encounter. In 2007, she developed an early locative media app, Park Walk, which used the GPS capabilities of people's mobiles to deliver geotargetted narratives of particularly places (Toronto's High Park and Grange Park).
So I was really excited when I heard that Martha was leading a day-long workshop in conjunction with the Mobile Human Computer Interaction conference occurring this week in Toronto. The workshop called People, Places, and Things - A Mobile Locative Mapping Workshop was organized by Martha, Bryn Ludlow, and Guillermina Buzio. They described their goals as:
Cultural production is about people (both contemporary and historical); places (existing situations, and their connections with the past); and things (artifacts and archives). In this workshop, participants will learn how to explore people, places, and things through the creation of personal narratives in small collaborative groups. They will then visit and locate their stories in public space at a nearby local park, connecting with their potential audiences through mobile storytelling and interactive GPS mapping on Google Earth.
Lucky for me, Martha made it possible not only for me to participate in the workshop but also invited me to help out in planning it. Martha had lead a similar workshop in Italy and shared with me her steps. With Guillermina, I put together instructions for the workshop that lead people through mapping a route via their mobile device, documenting their experiences and impressions, plotting them on a map, and sharing them with others. I posted the instructions so that others can also do it as well.
What I found particularly exciting about the workshop is that it uses technology often used for plotting quantitative info related to demographics or infrastructure and repurposes them to plot and share the very human elements of stories and creative expressions. As one who follows the mobile and geoweb fields, this use of technology is not as common as it could/should be.
Before the workshop, I tried out all the steps with my ten-year-old daughter at her favourite park. As I mapped her route via the GPS-tracking app MapMyWalk on my mobile device, my daughter took pictures of her favourite places on another mobile. Together we made short videos on the mobile of her describing the park's highlights and her memories. Later, she used the free photo-editing software to Picasa to play around with the photos to make digital art.
Using Google Earth, we imported her route as a path and plotted her photos and videos of the park onto a map. My daughter did almost all of this by herself (it's that easy to do). She loved the ability to have her stories and images added to the map and loved interacting with it all. She wants me to do this workshop with her Grade 5 class (even if it is easy and fun to do, the idea of being with 23 little kids as they run amok in a park is not inspiring). Here's her final tour as a KMZ file.
Martha opened the workshop on September 23 by defining locative "not as positioning ability but rather, it means tied to or embodied in place". Although locative media has a short, about 15-year, history (see a history I compiled), Martha placed the workshop project within a history of other innovative locative media work, as can be seen in her presentation she has posted.
Later, the attendees went to a nearby park and began capturing their experiences and creative encounters with place. Some people captured the park's soundscapes while others arranged playful, expressionist imagery. Martha describes the outcomes of the workshop:
The workshop was a great opportunity to connect with both residents and visitors to Toronto attending Mobile HCI, and gave us a chance to relax together in a beautiful historic location; to document and share stories and experiences in the park together and record them with the Google Earth Toolkit; to enjoy some of the best weather of the season; and to see Toronto at its best! We had a great group and learned many new approaches to mobile locative mapping, with a delightful day in Grange Park. I was particularly impressed with the wide variety of approaches and aesthetic and technical responses to our challenge to create new narratives in the Grange Park setting. And it was a lot of fun!
The workshop was fun, but it really impressed upon me that digital technology can easily and freely be used to share our experiences of space and enhance our relationship to place.
---
After ten years working in the Internet industry, Glen Farrelly is currently pursuing a PhD in information at the University of Tornton. His research interests include mobile user experience, location-based services, user-centred design, and online participatory culture. Glen explores these and related topics in his blog (www.glenfarrelly.com) and for Backbone Magazine.