GRAND-PREVNet partnership aims at confronting cyberbullying in Canada
Upcoming NCE roundtable will identify new research collaborations to tackle growing online problem.
Posted by GRAND NCE, April 30, 2014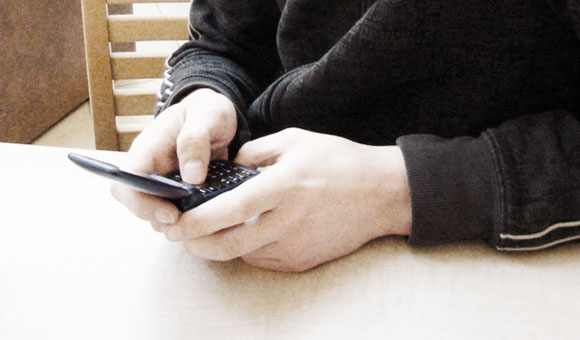 Image: Wikimedia Commons
Experts from GRAND and the PREVNet (Promoting Relationships and Eliminating Violence) Knowledge Mobilization NCE will be taking part in a roundtable on cyberbullying on May 13, just before the GRAND 2014 conference in Ottawa (May 14-16). This first joint event for the two national networks will identify collaborative projects and initiatives with the goal of addressing one of the greatest challenges facing online communities.
Awareness of bullying has expanded over the past two decades, but Canada's "bullying rates" have not decreased and remain disappointingly high relative to other countries according to PREVNet researchers. A recent survey by the World Health Organization ranked Canada 26th and 27th out of 35 nations on measures of bullying and victimization.
Cyberbullying in particular (harassment, defamation, and intimidation supported by information technologies such as instant messaging and social media) has greatly expanded the scope and the impact of bullying.
Children and youth are the most common perpetrators and the most common targets of online bullying. According to a 2011 Ipsos Reid survey, 25% of children in Canada between the ages of 12 and 15 have witnessed cyberbullying and 51% of all teens have had negative experiences with social networking. Studies also suggest that online abuse inflicts a heightened torment when compared with its real-world counterpart.
Comprising more than 120 leading Canadian research scientists and 60 national youth-serving organizations, PREVNet is working to stop bullying and to promote safe and healthy relationships. Launched in 2006 through the Networks of Centres of Excellence program, PREVNet initiatives aim at enhancing awareness, building research capacity, assessing bullying problems, and promoting evidence-based programs and effective policies across Canada.
In GRAND, researchers are studying how the proliferation of the Internet and mobile media affects Canadians' daily lives and social networking practices, as well as ways to create inclusive, safe online spaces.
Researchers in GRAND's new PROTECT project (Policy, Practice and Technology for Protection of Privacy, Integrity and Access), for example, are examining gender-based harassment, discrimination, and judgmental behavior that girls and women experience in the online social environment. Their goal is to develop new knowledge about the ways in which girls and young women incorporate digital media into their lives and identify ways in which the technology can be adapted to discourage these negative behaviors.
"These days digital media is ubiquitous in our lives," said Dr. Kellogg Booth, GRAND's Scientific Director. "One of the obligations we have as researchers who develop and study digital media is that we need to be concerned about the social consequences that emerge. Social scientists in GRAND are looking at these questions, but the opportunity to partner with the experts in PREVNet is one of the 'value added' benefits of being in the NCE family. This allows us to leverage the work that PREVNet researchers have already done."
In addition to the roundtable, a plenary session at GRAND 2014 will feature talks by PREVNet's Scientific Co-Director Dr. Wendy Craig (Professor at Queen's University), and PREVNet researcher Dr. Faye Mishna (Professor and Dean at the Factor-Inwentash Faculty of Social Work at the University of Toronto).
"A partnership with GRAND is a unique opportunity to bring together researchers and stakeholders in different areas of research to increase our current understanding of cyberbullying and its negative effects on children and youth," said Dr. Craig. "Social media is an important aspect of youths' lives and it is critical to develop prevention and intervention platforms with this media to engage with youth in addressing this issue and provide them with the skills to support peers."
Dr. Craig is an international leader in research on bullying. Her research examines healthy relationships among children, adolescents, and adults, as well as the risk and protective factors associated with bullying and victimization. As a Canadian representative, Dr. Craig works with the World Health Organization and UNICEF conducting research and promoting healthy relationships.
Dr. Mishna is a widely noted expert in cyberbullying research. Prior to joining U of T, she was the Clinical Director of a children's mental health centre and is currently cross-appointed to the U of T Department of Psychiatry. Faye has conducted research on bullying, cyberbullying, and cybertechnology in counseling and interventions with vulnerable children and youth.