GRAND-LEADS collaboration moving education into the digital age
Co-organized workshop a hands-on exploration of emotion in game-based learning and simulations.
Posted by GRAND NCE, May 23, 2014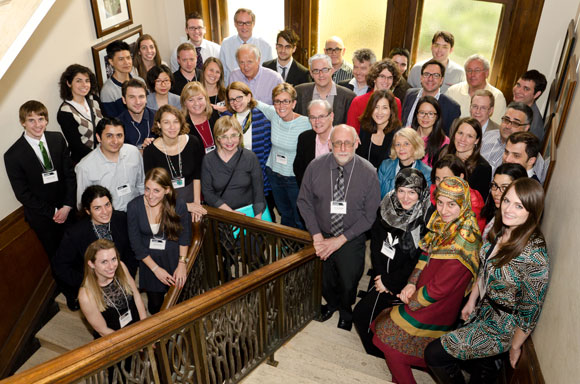 LEADS Annual Meeting 2014. PHOTO: LEADS.
Learners today are markedly different than those of even a few decades ago. More and more, Canadians are using technologies for learning and play. Universities, schools, educators, and parents are struggling to determine what is and is not of educational value and use.
To help meet the challenge of how people can best learn via 21st century curriculum and technologies, GRAND is part of the LEADS (Learning Environments Across Disciplines) international research partnership.
Headed by Professor Susanne P. Lajoie at McGill University, LEADS aims to develop technology-rich learning environments that will help improve learning and retention in secondary and post-secondary schools and across disciplines. The partnership brings together top researchers in the fields of education, psychology, computer science, engineering, medicine and history from 19 universities across six countries. Since it was created in 2012 through funding by the Social Sciences and Humanities Research Council (SSHRC), GRAND has supported the knowledge mobilization and training activities of the LEADS research team.
This year, GRAND researchers Dr. Jennifer Jenson, Professor of Pedagogy and Technology at York University, and Dr. Christina Conati, Professor of Computer Science at the University of British Columbia, took part in an interdisciplinary workshop organized as part of the LEADS Annual Meeting. The workshop facilitated thought and reflection on emotion measurement, assessment and analysis, including hands-on analysis and discussion.
Ongoing research by GRAND researchers has provided valuable input to the LEADS group. Studies include measurements of the emotion and cognitive factors involved during game play; voice based, gestural and collaborative games; game design; and innovative ways to employ the motivational power of computer games to everyday activities.
LEADS expert Dr. Kevin Kee, Associate Vice-President Research (Social Sciences and Humanities) and Canada Research Chair in Digital Humanities at Brock University also collaborates in GRAND's ENGAGE (Educational Gains and Achievements on the Edge(s)) project. ENGAGE is looking at ways digital media can foster new pedagogies and curriculum that are both playful and educational.
In LEADS, Kee is researching and evaluating how mobile Augmented Reality (AR) applications can promote learning and instruction about history. Kee led the development of Niagara 1812, an AR-based iPhone app that allows users to interactively explore the towns, landmarks, and people of Queenston and Niagara-on-the-Lake at the time of the War of 1812 and beyond.
"The opportunity to work with LEADS and contribute to the study of digital media's unleashed potential in the learning arena is a natural fit for the GRAND network," explains Dr. Kellogg S. Booth, Scientific Director, GRAND NCE and LEADS application collaborator.