Vancouver video game jam challenges industry's gender stereotypes
Centre for Digital Media instructor Dr. Kimberly Voll is bringing together developers, designers and artists to create games for social change.
Posted by GRAND NCE, July 23, 2013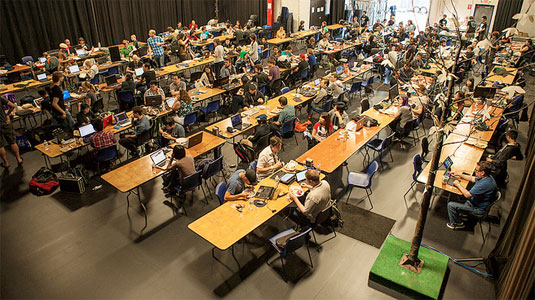 The iamagamer game jam drew over 250 participants globally to create games featuring lead female characters. PHOTO: Ligia Brosch
Though women and girls make up close to half of all gamers in North America, many in the games industry believe lead female characters have no role to play in commercial games.
In a March 2013 Gamasutra article, Jean-Max Morris, creative director for an upcoming Capcom adventure game, expressed the view bluntly in his statement: "You can't have a female character in games. It has to be a male character, simple as that".
The article became the genesis for a new group called iamagamer, looking to challenge the prevalent thinking, and raise awareness of those groups who remain underrepresented in games. The lead jam organizer is Dr. Kimberley Voll, a professor of software engineering and digital media at the Centre for Digital Media.
"What I wanted to do was step up and say: 'we can create a lot of amazing games with strong female lead characters' – right now it's just so completely imbalanced." said Voll in an interview with GRAND at the Centre for Digital Media. "This isn't to say gender inherently makes or breaks a game. This is all about: 'let's celebrate the great content that's already out there, and let's make new great content'."
The group's first 48-hour game jam was hosted at Vancouver's Centre for Digital Media on July 12-14, 2013. Over 250 participant developers, artists and designers were given the task of creating playable games featuring strong female protagonists. In the end over 85 games were created.
Satellite sites for iamagamer had also been created in San Francisco, Denver and Boston and gamers from around the world participated remotely from countries such as the UK, Germany, Brazil and Australia.
At iamagamer, Voll noticed a far more balanced ratio of women to men over the larger Vancouver Global Game Jam, which she organized in February 2013.
"I see iamagamer as part of a larger movement that hopefully looks at game jams as an opportunity for social change," said Voll. "I wanted to make sure this was an environment that they could explore safely. It's so easy to put your name on a piece of paper and sign a petition. It's a whole other thing for people to come out and spend 48 hours working on games to show that they believe in something. One of my big goals right now is to promote the games that have been made."
Gendered gaming is the focus of a major research project in GRAND launched in 2012. Dr. Jennifer Jenson (York) and Dr. Sean Gouglas (UAlberta) are leading studies examining the gender gap within the play, design and development of digital technologies. Jenson recently hosted the much-anticipated Women and Games panel at GRAND 2013 and the Feminists in Games (FiG) workshop at the Centre for Digital Media in June 2013. Voll helped organize FiG.
"The problem is that at a very young age society still speaks to these gender divides in very subtle and insidious ways. It's starting to change," said Voll. "If I can create a safe venue where people can come out and through the participants own grace and willingness to respect one another and explore some difficult issues, then I'm going to keep doing that."
Plans are in the works for future game jams focused on other issues or themes. Voll would like to make use of the new inexpensive, crowdfunded gaming console OUYA. She is also looking to harness the collective creativity to produce content for the U.S.-based One Laptop per Child (OLPC) project providing underprivileged children around the world with low-cost, low-power laptops.
Voll is also to participate in a discussion panel at GeekGirlCon in Seattle October 2013 – a conference dedicated to recognizing the contribution of women to "geek" culture.
-30-
Contact

Spencer Rose
Communications Officer
GRAND NCE