Three GRAND researchers 2013 Digital Alberta Award winners
GRAND research wins in three of 16 categories at the annual industry-led award ceremony.
Posted by GRAND NCE, June 4, 2013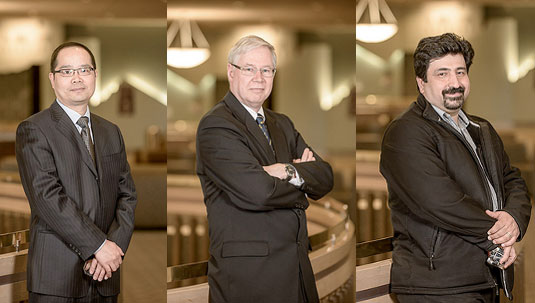 2013 Digital Alberta Award recipients (from left) Dr. Bin Zheng (UA), Dr. Duane Szafron (UA) and Dr. Faramarz Samavati (UC). Photos by Lance Burns and Heiko Ryll.
GRAND investigators from the University of Alberta and the University of Calgary were recognized for their achievements in digital media research at the annual 2013 Digital Alberta Awards ceremony held in Edmonton (June 2, 2013).
Competing with over 100 finalists from across Alberta, the GRAND winners were Dr. Duane Szafron, Professor of Computing Science at the University of Alberta (Best Digital Media Leader); Dr. Bin Zheng, Endowed Research Chair in Surgical Simulation in the Department of Surgery at the University of Alberta (Best Combined Hardware & Software); and Dr. Faramarz Samavati, Professor of Computing Science at the University of Calgary (Best in Cross-platform Content).
Now in its third year, the Digital Alberta Awards program honours Alberta's leading industry experts in all areas of the province's digital media sector. Nominees can include companies, entrepreneurs, student and education leaders and organizations in both the government and not-for-profit sector. The awards were created by Digital Alberta, an industry-led organization sponsored by the Canada Media Fund (CMF) that supports the Alberta digital media community.
This year's Digital Alberta Awards put the spotlight on three very different projects within GRAND: AI scripting for games, sketch-based modelling and surgical simulation.
Dr. Duane Szafron, who heads GRAND's BELIEVE Research Group, is working on artificial intelligence (AI) programming scripts that generate realistic, believable characters for digital games. Called 'ScriptEase,' Szafron's software allows designers to rapidly build complex behaviours in characters without explicit programming. ScriptEase II, the next generation ScriptEase, has upgraded to a drag-and-drop interface, and can now generate scripts for any game platform.
The software is of great interest to the commercial games industry, and has already been implemented in the Neverwinter Nights game produced by Edmonton-based company BioWare. The game implementation was also successfully used as a teaching tool for a multidisciplinary course offered at the University of Alberta.
"CMPUT 250 is not your regular Computing Science course. Students from Fine Arts, Art and Design, Music, Business, Computing Science, Education and many other programs work in groups to create interactive story-based 3D computer games," said Szafron. "We provide the non-Computing Science students with an opportunity to learn about scripting in a meaningful way through the use of ScriptEase II."
Also of interest to game developers, not to mention those in film and design, is the work of Dr. Faramarz Samavati at the University of Calgary. Samavati leads GRAND's SKETCH project, researching the application of sketch-based software in the creation of geometric models and animation.
Creating digital content is a major task for industries that require well-constructed, high quality geometric models. Even with the sophisticated software currently available, geometric modeling remains challenging and time-consuming. Faramarz's solution is NaturaSketch, now commercially available through the startup GRvis Software Inc created through the support of GRAND. Using strokes and contours superimposed on 2D images, NaturaSketch allows artists to create complex, textured 3D models, reducing work time to a matter of minutes rather than hours. The software also affords a more natural interface to traditional sketch-based systems by allowing multiple strokes that overlap, cross, and connect.
Creating virtual patients to help train surgeons save real ones is the research goal of University of Alberta professor and researcher Dr. Bin Zheng. A human factors specialist, Zheng considers surgeons' behaviours, abilities, and limitations in the stressful medical practice environment in developing simulation-based training programs. His research is part of GRAND's Healthcare Simulation project (HLTHSIM) looking at the wider application of virtual and augmented reality to the training of physicians and healthcare professionals.
Equipped with an eye-tracking and 3D motion tracking system, Zheng studies the eye-hand coordination, spatial orientation, and the process by which surgeons acquire skills in image-guided surgeries, including laparoscopic, endoscopic and robotic surgery. The goal is to shorten the learning curve of surgeons while strengthening their surgical competencies. For Zheng, surgical simulation offers a way to improve both care quality and patient safety.
"For hundreds of years, surgeons learned their surgical skills on the patient side. As we enter the era of digital technology, we are able to create virtual patients to save patients from being used for training purpose," said Zheng at the awards ceremony. "Thanks to the GRAND NCE, my research focuses on the development of new digital models that can reduce training costs of surgeons and save lives in the operating room."
-30-
Contact:
Spencer Rose
Communications Officer
GRAND NCE