GRAND experts offer perspectives on social isolation in the networked society
Far from making us lonely, social research lead by GRAND investigators Barry Wellman (University of Toronto) and Jason Nolan (Ryerson University) shows that online networking is creating new opportunities for meaningful social interaction.
Posted by GRAND NCE, January 29, 2013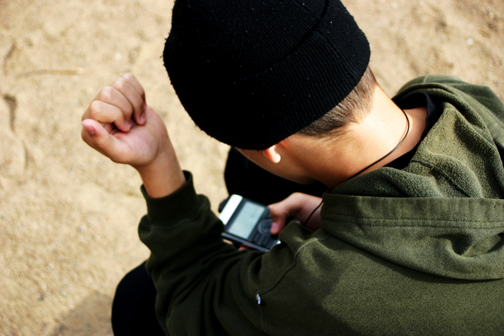 Although millions now know how Adam Lanza stormed Connecticut's Sandy Hook Elementary School last December, massacred 20 children and six adults, and finally turned his gun on himself, much else of his life still remains a mystery. According to reports, Lanza had little contact with people in his local community, using the Internet to connect with the outside world. All he left behind was a destroyed hard drive – his last erasure of information that could have helped investigators piece together some details of his life to shed light on what drove him to commit mass murder.
In a recent Washington Post article, journalist Michael Rosenwald discusses what he calls Lanza's "digital suicide," and considers whether his online absorption may have contributed to a pathological closing off from the offline world. It's an observation that is part of a wider ongoing debate in the media, and increasingly among scholars, about whether our networked society and its associated technologies are a leading us to a harmful form of social isolation.
Widespread use of online social networks such as Facebook and Twitter, particularly by youth, has become a patent fact. According to research from the Pew Research Center's Internet & American Life Project, 69% of online adults use social networking sites, while fully 92% of those aged 18-29 age group use these sites (as of August 2012). In Canada 60% of online Canadians (or 50% of all Canadians) now have a social networking profile. Some observers, such as MIT clinical psychologist Sherry Turkle (quoted in the Rosenwald article) fear that these new technologies are replacing face-to-face interactions and diminishing community.
Yet, GRAND researchers Dr. Barry Wellman (University of Toronto) and Dr. Jason Nolan (Ryerson University), also quoted in Rosenwald's article, have shown that social networking and Internet use is not linked to isolation. On the contrary, their evidence demonstrates that social technologies are expanding and diversifying social networks. These technologies also create opportunities for meaningful social interaction in marginalized groups, such as those with disabilities.
Both Wellman and Nolan are active in GRAND's Digital Infrastructures: Access and Use in the Networked Society (DINS) project. DINS research focuses on how our emerging "networked society" works, studying and evaluating the social implications of living and working in it.
According to Wellman's research and analysis, supported by findings from the Pew Internet & American Life Project, people who connect with others online actually have more friendships than those who stay offline. Users of social networking sites also tend to keep up with close social ties, and the average user has more close ties and is half as likely to be socially isolated as the average American. Internet use in general, and the use of social networking services such as Facebook in particular, correspond to more diverse and expansive personal networks. Individuals such as Lanza, who only interact with others via the Net, are anomalies.
"None of these technologies are isolated, or isolating, systems. People are not hooked on gadgets – they are hooked on each other," Wellman (and co-author Lee Rainie) write in their recently published book Networked. "The more people use the Internet, the more friends they have, the more they see their friends, and the more socially diverse their networks. People's lives offline and online are now integrated– it no longer makes sense to make a distinction."
Wellman is the S. D. Clark Professor of Sociology at the University of Toronto, and the director of U of T's NetLab: a scholarly network that examines how the Internet affects everyday life at work, in the community, and among family members, as well as the wider social impacts of the Internet revolution and mobile technology that have established the networked society.
A founder of social network analysis, Wellman has been charting a paradigm shift in the ways people and institutions connect. His analysis shows that generations ago, in the pre-Internet 1960s, our traditional closely-knit groups – the family, workplace, or neighborhood – became transformed into more dispersed personal networks with links that are predominantly person-to-person, with less regard to location. This latest "social operating system" Rainie and Wellman call "Networked Individualism."
In Networked, Wellman and co-author Lee Rainie, the director of the Pew Internet and American Life Project, elaborate on this theory. Using substantial evidence, Rainie and Wellman show Networked Individualism is the result of a "triple revolution"– the rise of social networking, the capacity of the Internet to empower people, and the connectivity of mobile tools – that offer certain advantages to society. Computer supported networks have opened up opportunities for expanding our individual networks, and helped us move beyond hierarchically arranged, bounded groups. People now have a greater capacity to act autonomously, to solve problems, and organize their lives, but in a networked way – with friends and acquaintances.
Like Wellman, GRAND investigator Jason Nolan recognizes limitations of traditional offline groups that can be overcome through online networks.
"Finding others like ourselves close to home isn't always easy, especially in what are referred to as 'close knit' communities that are defined by social, cultural or ideological consensus rather than diversity," Nolan says in an email statement. "This is why a lot of us who cannot find community in our so-called communities seek out friends and allies online."
Nolan, who is autistic, is interested in technologies that improve the lives of those with disabilities – in particular children. As the director of Ryerson's multidisciplinary Experiential Design and Gaming Environments (EDGE) Lab and professor in the school of early childhood studies, Nolan and his team are pioneering research on tools and techniques of Adaptive Design (AD) for disabled children. Using inexpensive materials and simple electronics, EDGE lab is creating devices that promote autonomy in children with disabilities.
Nolan is also interested in the application of social technologies to make human interaction more accessible. He has studied the activities of online groups such as the GimpGirl Community (GGC), a support network for women with disabilities, to learn how social technologies can build communities and promote interaction for marginalized groups. Networks such as the GGC allow members to explore and share notions of identity and self that are difficult to voice in mainstream communities. His research has shown how participating in these virtual communities offers a "lifeline" for those with disabilities.
"For persons with disabilities, social technology supports social interaction rather than increasing isolation," Nolan writes. "We don't go online to avoid social interactions, but to find the social interaction that is often denied to us in our local communities."
---
Contact: Spencer Rose
Communications Officer
GRAND NCE