SFU and UBC researchers combine sustainability and digital media to promote public engagement with green policies
Upcoming open lecture on Greenest City Conversations project to discuss how interactive media can engage public discussion around urban sustainability policies and practices.
Posted by GRAND NCE, September 11, 2013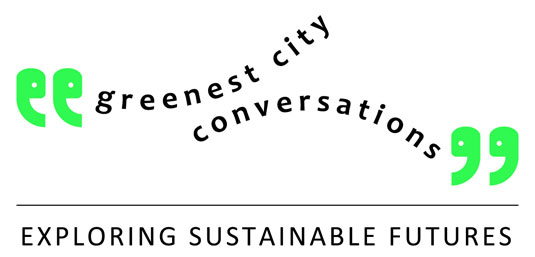 Findings from a major Vancouver-based study are showing how interactive media can help keep the public conversation around municipal sustainability policies going.
The Greenest City Conversations (GCC) project, led by researchers at Simon Fraser University and the University of British Columbia, has completed its comprehensive assessment of social media, multiplayer touch games, visualization, mobile computing and other media in engaging thousands of Vancouver residents in conversations on a variety of sustainability policies.
Sponsored by GRAND, the Pacific Institute for Climate Solutions (PICS), BC Hydro, Envision, Mitacs, and the City of Vancouver, the project was created to facilitate public discussion, while evaluating different modes of engagement. Though the analysis focuses on participants' views of sustainability issues in Vancouver, the results provide a best practices case study applicable to other jurisdictions across Canada.
The results of the two-year project are the focus of a free public lecture on September 18th, 2013 at SFU's Morris J Wosk Centre for Dialogue given by GRAND PNI Dr. Alissa Antle (SFU), former CNI Dr. John Robinson (UBC), and other members of their research team. Several researchers in GRAND have been a part of GCC under the research project GRNCTY, lead by Dr. Robert Woodbury (SFU).
Former GRAND CNI John Robinson is the Associate Provost, Sustainability at UBC and a professor with UBC's Institute for Resources, Environment & Sustainability and Department of Geography. The GCC relates to UBC's Sustainability Initiative (led by Robinson), which aims at large sustainability-related improvements in UBC procurement, operations and governance.
"UBC is vigorously pursuing partnerships with the public and private sectors to use our campus as a test-bed for community-scale sustainability solutions that can be brought to market and adopted by industry professionals," wrote Robinson in a special editorial for the Vancouver Sun.
Dr. Antle is an Associate Professor in SFU's School of Interactive Arts and Technology. She has been designing new interactive tabletop applications that promote public participation in discussions around sustainability.
Her Futura: the Sustainable Futures Game, funded through GRAND, PICS and SSHRC, is a multi-touch tabletop game designed to help children discover the complexity of sustainable development and land use planning. Futura was installed at Surrey's Holland Park during the 2010 Vancouver Winter Olympics in a field study to gain insights and reveal issues into the game's design. Antle is in talks with Science World, the City of Vancouver, and UBC's Centre for Interactive Research on Sustainability about hosting the game in other public spaces.
"Understanding how to design effective means to learn about sustainability is critical for a country like Canada – where development and resource planning ensure economic productivity for generations to come," said Antle. "My sustainability tabletop applications research informs the Canadian and international public about the complexity of this domain in ways that are engaging, accurate and accessible."
Another GCC researcher in GRAND, master's student Susanna Haas Lyons (UBC), is a public engagement specialist. She has been looking at how social networking sites such as Facebook can gather input from Vancouver residents and commuters on key urban transportation issues.
Over 750 people joined her Exploring Vancouver's Transportation Future Facebook group to join in online discussions on how they want to travel around the city heading into 2040. The study enabled Haas Lyons to compile a report on the public priorities of public transit, cycling, driving, and other commuting issues. The report was put forward to the City of Vancouver.
"What we heard from participants was that they very much appreciated the opportunity to be able to participate when and where they wanted, rather than have to go to a public meeting," Haas Lyons told the Georgia Straight in April 2012. "Online engagement is an important complementary tool to the public consultation."
-30-
Contact

Spencer Rose
Communications Officer
GRAND NCE