Researchers awarded CIHR Catalyst Grant to develop online tool for arthritis patients
The ANSWER-2 decision aid to be developed through the Arthritis Research Centre of Canada will help improve the uptake of medical treatment by patients with rheumatoid arthritis.
Posted by GRAND NCE, March 4, 2013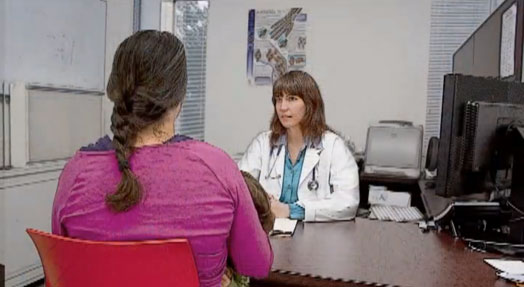 The ANSWER tool features animated stories and questionnaires that help RA patients weigh risks and benefits of drug treatment. CREDIT: The Arthritis Research Centre of Canada & the Centre of Digital Media.
In May 2012, Alison Hoens was diagnosed with rheumatoid arthritis (RA), a chronic inflammatory disease of the joints and surrounding tissues that afflicts one of every 100 Canadians. As her symptoms worsened, Hoens' rheumatologist recommended immediate treatment with the anti-rheumatic drug Methotrexate. Early treatment would help her avoid or limit irreversible damage to her joints that can lead to pain and disability.
Hoens had little time to decide on whether to start the treatment or request an alternative. To properly weigh the risks and benefits, she faced a considerable amount of medical information: how the drug works, its potential side effects, and the different ways it can be administered.
"I was aware of the greyness in the decision – that it wasn't black and white. When [I was] first diagnosed, there was a fairly dramatic onset, and you just don't feel well at all – so you're not thinking clearly. It's difficult to process the information. If I talked to my physio, or my doctor, or my rheumatologist, I couldn't remember after the appointments everything that they had said."
Through her role as a Knowledge Broker at the University of British Columbia's Department of Physical Therapy, Hoens learned about a new online decision aid called ANSWER (Animated, Self-serve, Web-based Research tool) being developed through the work of UBC Associate Professor and GRAND CNI Dr. Linda Li. A collaboration of UBC, Arthritis Research Centre of Canada, University of Ottawa and the Centre for Digital Media, ANSWER was designed to help RA patients assess the pros and cons of using Methotrexate – the most common initial drug treatment.
"The ultimate goal is for people to be able to enter into a shared decision-making environment so that they can come in with their questions and concerns [and have] an informed discussion with their doctor," said Li. "[Patients] feel ambivalent [about new treatments]: on the one hand they know they need the drug to keep them healthy; on the other hand, they're very worried about the side effects. These worries often times come with no knowledge about how the medications actually work, and how big the risk is for the side effects."
As a Senior Scientist at the Arthritis Research Centre of Canada, Li is studying how online tools, such as decision aids, can improve the uptake of medical treatment. Decision aids are intended to present patient-centred information in a clear and unbiased manner based on the best research evidence.
Tool helps personalize the patient's decision
Popular among users of the ANSWER tool are the featured videos produced by students in the Masters of Digital Media program. The ANSWER also provides individual questionnaires and statistics that go over, and help patients prioritize, the risks and benefits of treatment. At the end, users print a summary of their questions that they can take to their doctor.
Li sees clear advantages to the ANSWER tool over simple Google searches and online patient testimonials. Although these sources can provide good information, they lack the perspective needed to properly consider the benefits versus risks, the probability of success, and the guidance for next steps of the treatment.
"[ANSWER] presents the opportunity for people to know that there are other options, and how you go about consulting with your doctors about those options."
For Hoens, ANSWER provided the credible research evidence needed to make an informed choice on her own. "When I tried the ANSWER tool I was particularly impressed with the ability to personalize the information and the decision," said Hoens. "It provides you with information that is meaningful to a patient [and] helped to crystallize exactly what my questions were. I had the one page sheet summarizing my list of questions [that I took] back to the rheumatologist to make the final decision, and I decided to go ahead with it."
Having the decision aid online also allowed Hoens to carefully think through her choice at home, and at her own pace. "Because there are so many things to consider in the decision for this drug, the fact that you can replay [the information] time and time again allows you to hear, read and ultimately understand all of what you need to rather than just a small percentage of it."
CIHR funding to support ANSWER-2
Through the assistance of a recently awarded CIHR (Canadian Institutes of Health Research) Catalyst Grant for eHealth Innovations, Li will lead an extension of her original ANSWER tool in ANSWER-2. The new decision aid will help patients who find Methotrexate ineffective and require the stronger treatment of "biologics" (genetically engineered proteins) as recommended by their doctors.
GRAND PNI and Simon Fraser University Computing Science Professor Dr. Chris Shaw was instrumental in developing the CIHR application, which was bolstered by the positive results of ANSWER in improving patients' knowledge and decision-making about treatment options.
In partnership with investigators at the Mary Pack Arthritis Program, Vancouver General Hospital, ANSWER-2 will potentially be integrated with a new RA Patient Passport that tracks the health status including symptoms, medications and exercise routines, which patients can share with their health professionals. This integration will help ensure the decision aid becomes part of clinical practice.
Student training integral to the project
Through her involvement with GRAND, Li sees the great potential for first-rate student training opportunities.
ANSWER-2 will involve graduate students from health research, computer science, and the Masters of Digital Media program, as well as input from the clinical community and patients. By working closely with health and clinical researchers, students and investigators from disciplines outside of health research will benefit from direct access to patients for their research and learn from the nuances of working with real patient care.
"[Through GRAND] training is a lot richer than what we would provide individually," said Li. "We can then make sure we are developing something relevant to [patients'] needs as well as for scientific purposes, and for student learning. There's something for everyone."
---
Contact: Spencer Rose
Communications Officer
GRAND NCE