NYU computer graphics pioneer inspires Vancouver's digital media community
Dr. Ken Perlin, one of the most influential innovators in computer graphics, shares the latest out of NYU's Media Research Lab at Vancouver's Centre for Digital Media and Emily Carr University.
Posted by GRAND NCE, July 17, 2013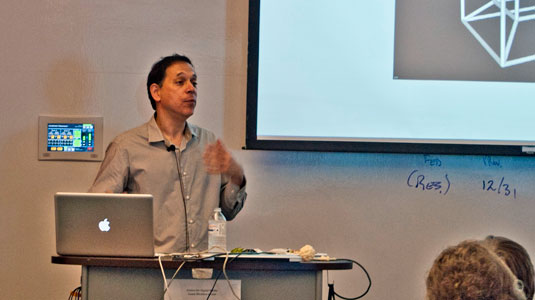 Dr. Ken Perlin (NYU) presenting to students and faculty at the Centre for Digital Media in July 2013. CREDIT: CDM
(Vancouver) New York University computer science professor Dr. Ken Perlin believes computer technology can help create a more "people-centric" world – and his imaginative research offers us a glimpse into what that world might look like.
Speaking at Emily Carr University and the Centre for Digital Media in Vancouver, July 2013, the Academy Award winning researcher discussed some of the latest work at NYU's Media Research Lab (founded by Perlin), along with his reflections on the incredible power of technology to augment life and creativity.
"Techniques that look at us and let us do what we naturally do with our bodies without imposing on us consciously have to be the direction things go. Technology ultimately ought to become so good that it gets out of our way [allowing us to] create art and communication and beauty with each other." said Perlin in an interview with GRAND during his recent visit to the CDM. In 2012, Perlin was a plenary speaker at GRAND's annual conference.
A big name in the world of computer graphics, Perlin's prodigious research career has made several advances in rendering, modeling, animation and user interfaces, which have earned him wide recognition and inspired new lines of research. In recognition of his contributions, he was awarded the 2008 ACM/SIGGRAPH Computer Graphics Achievement Award.
Perlin is perhaps best known for his groundbreaking computer graphics algorithm known as "Perlin Noise," for which he received a Technical Achievement Award from the Academy of Motion Picture Arts and Sciences in 1997. Developed during his work on the 1982 Disney movie Tron, the algorithm became a mainstay for the film industry in representing the complexity of natural phenomena in visual effects. Since 1990, it has been used in nearly every major Hollywood effects film.
Since 2009, Perlin has also served on the Advisory Board of Vancouver's Centre for Digital Media engaging students of the CDM's Masters of Digital Media program as a visiting lecturer and mentor. His presentations on leading edge research and reflections on technological innovation have been an inspiration to many students and faculty over the years.
CDM a creative hub for self-starters
Having seen the CDM and its MDM graduate program develop over the past six years, Perlin believes the Centre offers prospective students with both experience and entrepreneurial ambitions an attractive alternative to the traditional university degree. With the curriculum's focus on developing practical skills to turn good ideas into actual digital media solutions, he sees the program as the right kind of preparation for those looking to venture out on their own and sell their ideas – rather than just look for work.
"One of the things that's really interesting about the CDM is that its going through a transition from creating employees […] to [creating] entrepreneurs who directly interface with the world, and may even have their own funding," said Perlin. "Students have to be prepared to make something real and convince people that it is real – not just saying 'wouldn't this be a cool idea?' but also putting together a feasibility study and a business plan. People only want to give you money if they know you're not just kidding yourself."
Perlin also praises CDM for its lack of formality and for fostering a culture of creative freedom built around an energetic community connected with industry, which is a big draw for applicants from around the world. And with the CDM's new, stronger focus on connecting MDM students with the wider academic research community, he foresees his own engagement with the CDM expanding.
"[CDM's] mission is moving to a broader one that's not just [about] creating a pool for industry. Some of these students are going to become very interesting innovators in their own right. So, they need to be connected with as much research energy as they can. I came along at the right time."
Academic research tackling the difficult questions
Much of Perlin's work is concerned with where computer technology is going – particularly in the areas of graphics, animation and virtual reality. As he points out, good technology has historically moved from being a focus of attention – such as we see today with smartphones and social media – to ultimately become ubiquitous, taken for granted and therefore "invisible".
"You cook something; you don't 'access' your stove. Similarly, computers – to be successful – will gradually become invisible and not be something we will notice. And when it's invisible it's successful." The goal is to fit technology to our natural ways of human communication, creativity and connection.
At the public Emily Carr lecture, sponsored in part by Vancouver's SPARK CG, Vancouver ACM SIGGRAPH and Mitacs, Perlin introduced some of the exciting research projects underway at NYU's Media Research Lab that are moving computer technology in this direction.
NYU graduate student Jonathan Tomson has developed new hand tracking software using Microsoft Kinect that allows users to see and touch physical objects using digital reconstructions of their hands, adding a new level of flexibility to augmented interactions with physical environments.
"[Tomson] is doing for the subtleties of movement in the human hand what Microsoft has done for the full body skeleton. The hand has 26 degrees of freedom, so if you can capture those movements you can rebuild in the computer exactly the human hand itself," said Perlin.
In other research, Perlin is looking at how to turn computer programming (specifically "procedural programming") into an accessible tool for those from non-technical backgrounds. (Procedural programs instruct computers to execute well-structured steps and procedures toward some outcome).
Through shareable documents (similar to Google Docs) that can be easily programmed, users can input executable steps to see changes to a graph or image in real time – for example changes in the movement of an interactive animated character. Integrated into high school curricula and classrooms, Perlin envisions procedural programming as a powerful tool for teaching, which may also revolutionize the way we work, communicate and learn.
"If you can get a literacy around people doing procedural things – the power to tell computers to do things for them – you can put that into the ways people share knowledge. You might see a generational shift where you have millions of people able to do programming and that would create a new kind of economy, as compared with now where everyone can read and write, which is fundamental to the way our economy works."
As the Director of the Games for Learning Institute (G4LI), Perlin is also leading studies into what makes games compelling and fun, and to apply those insights and the motivational power of games in new educational media – for example, game-based approaches to science education for school-aged children. With significant support from Microsoft Research, the aim is to bridge the gap between formal (classroom) learning and the ongoing informal learning youth already engage in through computer tablets and game devices.
Many of Perlin's research achievements have contributed directly to technological advancements and industry applications in graphics, animation and digital media. In his view, academia has the inherent flexibility to take on the difficult research challenges the industry simply does not have the time to address.
"Academic research is best at tackling the sort of really, really hard questions that are way up stream. I don't think that universities are set up to be practical problem solvers [but] I don't think universities should do anything different from what they are doing. The development of the possibilities of new things has a particular necessary place in the economy."
-30-


Contact:
Spencer Rose
Communications Officer
GRAND NCE