Incoming Scientific Director to lead GRAND's next phase
GRAND to introduce renewed research program focused on tackling problems of importance to Canada. New projects expected to come on line April 2014.
Posted by GRAND NCE, November 22, 2013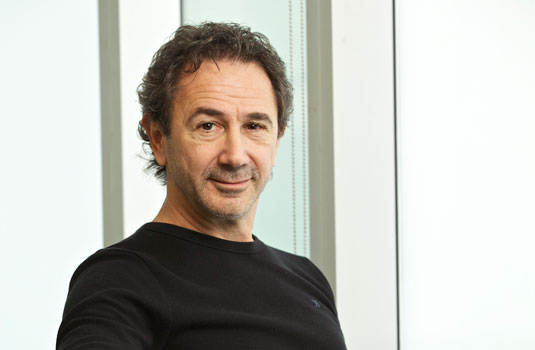 Incoming Scientific Director, Dr. Eugene Fiume (University of Toronto)
(VANCOUVER, BC) GRAND NCE is gearing up for big changes in 2014. Looking ahead to the completion of its first five-year funding cycle at the end of that year, the Canadian digital media research network has turned its attention to funding renewal with a new comprehensive plan for the coming five-year second phase as a Network of Centres of Excellence.
Leading Phase 2 will be GRAND's next Scientific Director, Dr. Eugene Fiume (University of Toronto). Dr. Fiume will take over from founding Scientific Director Dr. Kellogg Booth (University of British Columbia) who is stepping down at the end of his five-year term in December 2014. Dr. Fiume is a Professor and past Chair of the Department of Computer Science at U of T. He will be actively involved with the funding renewal process in 2014.
In looking ahead to the next five years, Dr. Fiume anticipates a "sea change" in the way digital media is created and consumed in Canada, generating pressing new questions to be tackled by GRAND's community of researchers.
"It is a profound honour to help lead GRAND into its next phase. With so much achieved, it is now possible to imagine a future in which [GRAND] expands its base of funding, becomes more prominent in the public eye, and tackles the most important problems in digital media research."
Dr. Fiume is already working closely in the planning process with Dr. Gerald Karam, who became Chair of GRAND's Research Management Committee (RMC) in May 2013. Dr. Karam has been an active member of the Committee since its inception and brings to the position many years of experience from both his current position as the Executive Director at AT&T Labs-Research and as a former academic researcher at Carleton University.
"For me, it is thrilling to participate in the execution of this renewal effort for GRAND – to be on the ground floor of something that will combine the best of what GRAND has achieved, innovative thinkers at the forefront of Canadian research, and an exciting opportunity ahead."
Dr. Karam succeeded Dr. Gord Kurtenbach, Senior Director of Research at Autodesk, the inaugural RMC Chair. Dr. Kurtenbach helped establish GRAND's research program during its first five years, and provided much guidance in establishing the strong research program that will carry GRAND into its second five year funding cycle.
New research program to address Canada's digital media "Challenges"
In addition to leadership changes, GRAND's renewal plans include significant restructuring of its current research program. The changes will better align the network's projects with the priorities set out in the NCE Program now that GRAND has established a strong core research capability.
A high-level "blueprint" developed by the RMC over the past year outlines the changes including updated criteria for the selection of new projects to be put forward in the June 2014 NCE Renewal Application. The Renewal Application will define the second five years in GRAND's fifteen-year plan.
One significant change underway is the launch of a new thematic framework based around a series of "GRAND Challenges." Seven in total (Entertainment, Learning, Health & Wellness, Sustainable Communities, Big Data, Work, and Digital Citizenship), each challenge/theme focuses on a single problem area that has strategic importance for Canada, and for which the receptor community seeks solutions.
New projects will have activities that target one or more of the challenges, and will be evaluated based on how well the research results address a given problem area. Though still being fine-tuned, the framework is set to replace the Phase 1 theme structure based on the network's five "core capabilities" that were instrumental in building the research program, and the capacity for partnerships evident in the GRAND network today.
As Dr. Karam notes, the proposed research program places much greater emphasis on the roles of partners and receptor communities in projects.
"We will have bigger projects in the second phase of GRAND that span the country and expand the scope of work in the multidisciplinary manner that GRAND exemplifies. Projects will focus much more on connections to the receptor community, in all the appropriate ways for a Network of Centres of Excellence."
Partners will become more involved in defining, executing, and evaluating research activities. As well, receptor communities – those who are likely to use or benefit from the research outcomes – are expected to be far more involved throughout the lifespan of the project.
"To fully capitalize on the strengths we have developed in the digital media sector, there will be an increased emphasis on having a receptor-driven research program that meets the evolving needs of Canadians in a global digital economy," said Chair of GRAND's Board of Directors, Dr. Ian Kyer.
Over the next six months, planning will continue as the theme structure for the research program is refined and selected projects are finalized. A new set of theme leaders will join the RMC to carry out the restructuring.
Phase 2 themes and projects will officially commence on April 1, 2014. At that time, the Phase 1 themes and projects will wind down and, in some cases, continuation of key aspects of those projects will be integrated into the new framework.
GRAND renewal to build on Phase 1 successes
Since it was launched in January 2010, GRAND has become Canada's largest digital media research network. During those years, the network has grown to include 26 member universities involving hundreds of researchers in projects touching on nearly every aspect of digital media. The network's capacity to intersect across disciplines has helped support over 40 collaborative projects during the network's first four years.
"It truly is impossible to overstate the achievements of Kelly Booth and his leadership team in creating GRAND and bringing it to such an impressive stage of development. But it is the researchers themselves who determine the success of GRAND," said Dr. Fiume.
For Dr. Booth, these accomplishments have left GRAND in an ideal position to begin its second phase.
"The GRAND NCE has already met many of its goals for the first five years. The significant achievement of establishing a robust and mature network provides a great foundation that allows us to look ahead to the next phase of our life as a Network of Centres of Excellence."
- 30 -
Dr. Eugene Fiume, Scientific Director Designate

Dr. Eugene Fiume is a Professor and past Chair of the Department of Computer Science at the University of Toronto, where he co-directs the Dynamic Graphics Project and is Director of the Master of Science in Applied Computing Program. Eugene's research interests span most aspects of realistic computer graphics, including computer animation, modeling natural phenomena, and illumination, as well as strong interests in Internet-based imaging, image repositories, software systems and parallel algorithms. He has written two books and co-authored over 120 papers. Eugene is a co-recipient of the 2011 NSERC Synergy Awards for Innovation for the 20-year collaboration between the Dynamic Graphics Lab and industry partner Autodesk.
Dr. Gerald Karam, Chair of GRAND's Research Management Committee

Dr. Gerald Karam is Executive Director at AT&T Labs-Research in Florham Park NJ. Before joining AT&T in 1995 he was an Associate Professor in the Department of Systems & Computer Engineering at Carleton University. At AT&T, Gerald's primary research has been on new platforms for consumer and enterprise communication services that leverage emerging technology and devices for fixed and mobile services. His continuing interests include mobile applications and technology, telecommunications software, platforms and services, software design and analysis, concurrent systems, and real-time systems. Gerald is an AT&T Fellow, the company's highest technical honor, an IEEE Senior Member, and he sits on the IEEE Advisory Committee for IT and the New York Institute of Technology (NYIT) Electrical and Computer Engineering Advisory Board.
Media Contact:
Spencer Rose
Communications Officer
GRAND NCE