Researchers attend GRAND Café in preparation for GI 2014 and SIGGRAPH
Second Montreal Fall Graphics Retreat brings together students and faculty to discuss work in progress.
Posted by GRAND NCE, November 21, 2013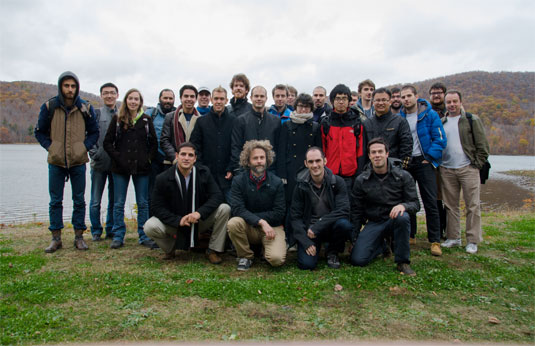 Participants of the 2013 Montreal Fall Graphics Retreat - GRAND Café @ McGill at the Gault Nature Reserve.
The charming Gault House on the shore of Lac Hertel at McGill University's Gault Nature Reserve was the site of the second Montreal Fall Graphics Retreat held October 24, 2013.
Sponsored as a GRAND Café, the retreat was organized by McGill's Dr. Paul Kry and PhD Student Sheldon Andrews for faculty and graduate students to present their ongoing research projects in the fields of computer graphics and computer animation. Much of the discussion focused on preparations for Graphics Interface 2014 organized by Dr. Kry and CNI Andrea Bunt (University of Manitoba) as well as SIGGRAPH 2014 in Vancouver.
Twenty-five participants attended this year's retreat - many from the GRAND network, and a number of out-of-town guests. Presentations consisted of short 10-minute talks of followed by questions and discussion.
For Andrews, the Reserve provided a beautiful and stimulating setting for dialogue.
"This year, the event was attended by researchers from the Montreal region, as well as Ottawa and Toronto. Constructive feedback from the group followed each presentation, with the intent to advise students on improving their work. A lunch time break gave an opportunity for some one-on-one interaction as attendees hiked to the top of Mont-St-Hilaire. This excursion resulted in some inspiring discussions and potential future collaborations. We look forward to hosting this event again in the future."