Edmonton hackathon joins medical professionals with tech innovators to work on Canada's healthcare challenges
GRAND helps bring Hacking Health to Alberta with the province's first 48-hour coding jam focused on health.
Posted by GRAND NCE, December 2, 2013
By GRAND NCE, November 28, 2013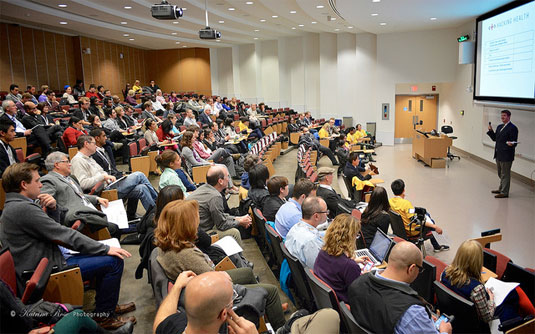 The Hacking Health Edmonton hackathon involved over 100 clinicians, patients, designers, and developers. PHOTO: Katrina Rose.
GRAND helps bring Hacking Health to Alberta with the province's first 48-hour coding jam focused on health.
(Vancouver, BC) "Hackathons" ("hacking" + "marathons") have evolved over the past decade from being coders' events to becoming social platforms for solving problems. Marshaling the talents and ingenuity of different professionals, the fast-paced jams task small teams with addressing difficult challenges and prototyping workable solutions from scratch – often within a single weekend.
In Canada, Hacking Health has applied this model to take on some of the intractable challenges faced by the healthcare system. Through events held in cities across the country, Hacking Health matches technology experts with doctors, nurses and other healthcare practitioners who, though absent coding or design expertise, understand Canada's healthcare problems and have a connection with patients and other users of health applications. The interdisciplinary approach overcomes some of the obstacles to initiating important health technology projects.
"We are trying to get more bottom-up innovation. We are trying to engage the public," said Hacking Health co-founder and physician Dr. Jesshan Chowdhury in an interview with the Edmonton Metro. An MD/DPhil graduate from the University of Alberta and Rhodes Scholar, Dr. Chowdhury started Hacking Health in 2012 with entrepreneur and designer Matthew Huebert, and developer Dominic Savoie.
"We want to get more ideas into the funnel and not all ideas are going to work out, but that is the whole point. We want more experimentation."
The latest hackathon was held at the University of Alberta's Edmonton Clinic Health Academy on November 22 - 24, 2013 – a first for Alberta. Sponsored in part by GRAND, the event drew over 100 doctors, nurses and other health professionals along with students, designers, developers and many others. First started in Montréal in 2012, Hacking Health has involved over 1,000 participants.
GRAND researchers Dr. Eleni Stroulia and Dr. Sharla King were key organizers of the Edmonton event. Dr. Stroulia is a Computing Science Professor at the University of Alberta; Dr. Sharla King is an Assistant Professor at the U of A and Director of the Health Sciences Education and Research Commons (HSERC).
Dr. Stroulia and Dr. Chowdhury originally decided to bring Hacking Health to Edmonton – Dr. Chowdhury's hometown – in June 2013. The organizing group included members of GRAND's Health Simulation (HLTHSIM) project, along with students and colleagues.
"The event attracted many GRAND members, who brought to their Hackathon teams their discipline-specific expertise in computer science, design and health and their passion for interdisciplinary work," said Dr. Stroulia. "This is exactly the combination of skills we need to address the challenges in today's healthcare system with digital-media technology."
"This event would not have been the success it was without the support we received from the GRAND administration and community," she added.
The Edmonton hackathon kicked off with a matchmaking event for participants to meet face-to-face and find potential team members. The "pitch clinic" gave some quick lessons on how to pitch their projects in 60 seconds. The projects covered a range of objectives, technical complexity and potential. The 48-hour event ended with two-minute demos by each team (14 demos in all), followed by questions from the judges who selected the top projects.
Stand-Up! was among those selected, co-developed by GRAND HQP Victor Guana – one of Dr. Stoulia's students.
Stand Up! is a mobile app designed to combat sedentary workplaces and habits, which recent studies have linked to an increased risk of diabetes, heart disease, high blood pressure, and cancer. The device prompts users throughout the day to break into light exercise. The prototype was selected for Best Solution For Consumer Health & Patients and received a Business Development Bank of Canada Award.
For Guana, the hackathon offered an appealing alternative to the more traditional interdisciplinary interactions experienced as a grad student.
"Hacking Health opened a door that I've sometimes found hard to open in my day-to-day activities in academia," he said. "[It] makes interdisciplinary interaction agile, providing a rapid prototyping environment where tangible results, like mobile apps, can be created and demoed in a very short period of time."
"I would love to be a part of this experience again – not only for the healthcare problem space, but for any domain where software systems can bring flexible and transparent solutions for modern world challenges."
Other top projects included a web-based system to manage referrals from family physicians to specialists and reduce administrative delays. Another video-enabled app allows parents to better report their children's symptoms to doctors.
Dr. Chowdhury, who has signed on to become a Project Champion for a new network project called KNOW (Knowledge Networking for Organizational Work) led by Dr. Stroulia. She hopes to collaborate with Hacking Health to make enhancements to Sparkboard, Hacking Health's primary event software.
Impressed by the success of the hackathon, she is looking forward to collecting new team members to organize a follow-up event.
"Some of the Hackathon projects have the potential of becoming part of GRAND's activities, thus establishing a virtuous circle of research, community outreach and knowledge transfer," noted Dr. Stroulia.
- 30 -
Media Contact:
Spencer Rose
Communications Officer
GRAND NCE