Avant-garde game developed by Concordia University game researchers to be featured at IndieCade 2013
Two-player, dancing-fighting game Propinquity has been selected for the Night Games carnival at the upcoming international independent game festival.
Posted by GRAND NCE, September 22, 2013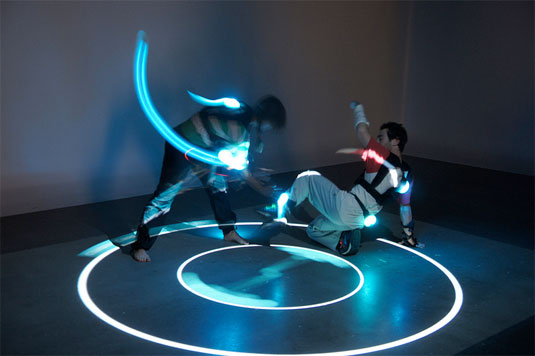 Propinquity - a game developed by GRAND researchers - will be featured at this year's IndieCade 2013. PHOTO: Jane Tingley.
Curators for IndieCade 2013 have selected Propinquity, developed through GRAND's PlayPR project, as one of 36 games to be featured at the international independent game festival (October 3-6: Los Angeles, CA).
Hand picked from over 800 submissions, the game will be part of the festival's Night Games outdoor games lineup open to festival attendees. It is also eligible for the Developer's Choice, Audience Choice and Media Choice awards. Called the video game industry's "Sundance," the IndieCade Festival of Independent Games is one of the biggest venues for the worldwide exposure and promotion of independent and alternative games.
Propinquity (meaning "proximity") is a two-player sensor-based gestural game that combines the rhythms and movements of dancing and fighting games. GRAND researchers Lynn Hughes, Bart Simon and Jane Tingley at Concordia University's TAG Centre created the game with collaborators Marius Kintel and Severin Smith. Tingley is also a speaker at IndieCade. The game has been shown and played in Montreal, San Francisco, Boston and Brussels, as well as showcased at La Gaîté lyrique, Joue le jeu / Play Along in Paris in 2012.
"Not only did GRAND enable and focus the collaboration between Lynn and myself," said Simon. "It also gave us the resources to experiment and iterate on the design with diverse kinds of students as well as a terrific community of experts, critics and advisors in the PLAYPR project." Read Simon's blog post about Propinquity's Official Selection.
Focused on the actions of the body rather than the screen, Propinquity uses sound and game mechanics to produce an intensely social and physical experience. Players wear soft patches with proximity sensors and a glove that provides tactile feedback. As players move to music inside a small arena, different sensors on their bodies light up to indicate activity. The patches are programmed to light up in patterns and for different lengths of time to provide various types and levels of gameplay. To score points, a player must get as close as possible to his or her partner to activate patches on the other's body.
IndieCade 2013 will take place at multiple venues across downtown Culver City (Los Angeles), California. This year's festival includes a mix of conference sessions, hands-on gameplay, big games and night games, social events and parties. The official selections and nominee games are at the heart of the vibrant festival. IndieCade's events and programs are designed to bring visibility to and facilitate the production of new works within the emerging independent game movement.