Blog Review: SXSW Interactive
GRAND PhD Candidate Noreen Kamal shares her experience as a Panelist at SXSW Interactive.
Posted by GRAND NCE, March 22, 2012
When Ayogo Games asked me if I would be interested in participating on a Panel led by them at SXSW Interactive, I was not entirely sure what I was getting myself into. I had heard about South By Southwest (music festival), but really only vaguely. Looking further into it, SXSW not only had music and film components, but also an interactive one (renamed from SXSW Multimedia in 1999).

Ayogo was interested in putting together a panel with experts that could speak to the application of social games and health behaviour change. The final name of our panel submission was, "Let's Play: Motivate Healthy Behavior Using Games". Well, the acceptance procedure was definitely different than computer science academic conferences, and it included online voting (30% weight). Other factors included input from the advisory board (40%), which is a group of industry professionals from across the US and around the world, and SXSW Staff (30%). We had a great panel, including a physician from the University of Southern California, led by Michael Fergusson (CEO of Ayogo Games).

Well, to my surprise (not withstanding the quality of our panel submission), our panel was accepted, and off I went to Austin TX for my first "South By" experience. With a complimentary Gold Badge (as a panelist), I joined over 25,000 other people at SXSW. The plenaries included names like Al Gore and Tim O'Rielly, major industry presence like Bing and Nokia were hosting large street parties, and hundreds of start-up hipsters were hobnobbing with future funders and partners. There were official and unofficial parties throughout the city, and Austin's 6th street went from the usual weird (as the T-shirts boast) to outrageous. And so the circus of SXSW goes.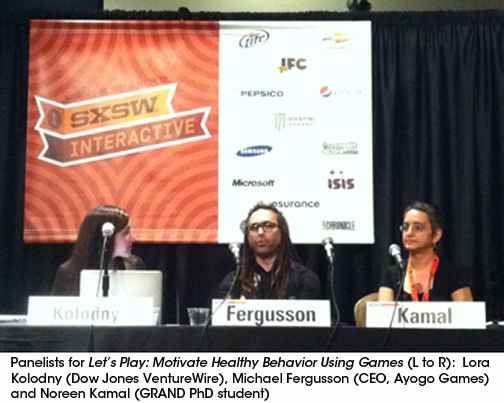 I did attend a number of panels. Most of these panels were being run by owners of small web companies or other related start-ups. The discussion around design was indeed relevant in the Conversation titles "How Meaningful Design Can Change the World". The difficulty of designing meaningful websites came out; however, I was surprised to see how little users were being considered in the design. This resonated true for many of the panels that I attended. I wonder how we as researchers can do more to ensure that our research and basic undergraduate human-computer interaction is practiced.

The true meaning of SXSW2012 became evident during our panel on the final day of the Interactive portion of the festival/conference. After our panel presentations and delightful discussion, the interested parties approached Michael and myself. Interest in our applications and software become apparent. Industry representatives were interested in my work; a physician wanted to know how to purchase my system; and another person wanted more information on my conceptual framework. This was technology transfer! And thus the meaning of SXSW, and why young and often successful hipsters come armed with their new start-up.

On top of a great festival and conference experience, I fell in love with the southern hospitality combined with active arts and culture of Austin. It was easy to find comfort in this southern town that boasts, "Keep Austin Weird", and claims to be the live music capital of the world. I believe it all, as I saw and heard the magic that Austin creates. I am looking forward to catching some more of this magic, while in Austin for CHI 2012!