Blog Review: 2012 Microsoft Research Faculty Summit - Q&A Session with Luanne Freund
GRAND researcher Luanne Freund at UBC's School of Library, Archival and Information Studies (SLAIS) shares her experience at the 2012 Microsoft Research Faculty Summit.
Posted by GRAND NCE, July 26, 2012
The 2012 Microsoft Research Faculty Summit was held July 16-17, 2012, in Redmond, Washington. The summit brought together approximately 400 researchers, educators, engineers and architects to explore emerging opportunities and challenges in the computer science research community. Attendance was limited and by invitation only, to ensure ample opportunity for interaction.
Several GRAND researchers were invited to attend, including Luanne Freund, Assistant Professor at UBC's School of Library, Archival and Information Studies (SLAIS). GRAND connected with Luanne for a Q&A session about her experience.

Q Is this your first time attending?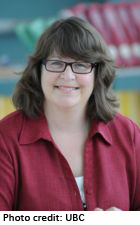 Yes - this is the first time I have attended. Apparently this was the biggest meeting they have had yet, with about 400 attendees, including many from outside North America. Of these, about 70% were first time attendees. I was invited as part of Microsoft Research's outreach to faculty from iSchools (Information Schools). Most of the attendees were from computer science, but there were also humanists, social scientists and iSchool faculty, so it was an interesting multidisciplinary mix.

Q How does one get invited to attend?
As I mentioned, the iSchools were all invited to nominate one delegate. This year there was a third day event focused on social media, so they requested iSchool delegates who do research in social media. I do not know how the other folks are invited, but many of them have collaborated with Microsoft researchers - so there are pre-existing or potential research ties.

Q Describe one (or two) highlight(s) of your overall experience at the Faculty Summit.
The networking components of the meeting was the most rewarding for me, as I met an interesting mix of colleagues from different research communities, some old and some new and a mix of academic and industry researchers. I also got to know some of the GRAND researchers better, which was a nice side benefit. The meeting was very well designed to facilitate networking, as there was lots of social time, including a beautiful boat cruise through the Seattle waterways.

Q How has attending the summit improved your research?
It certainly sparked some new ideas, and opened more opportunities for collaboration.

Q Would you like to give kudos to a presenter or researcher?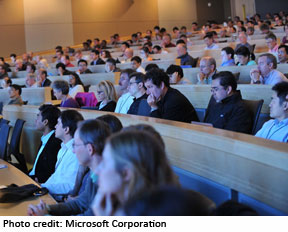 Jaime Teevan at Microsoft Research did a great job bringing together the community interested in social search and chairing an excellent session on that topic.
Q What was the coolest thing you (over)heard during the conference?
I am excited about the interactive video/storytelling system being developed at Microsoft - Rich Interactive Narratives, and hope to be involved in some collaborations with that. But, the coolest thing was an entry in the student design competition, which is a system that scans the sky with a webcam, applies face recognition algorithms and takes photos of "faces" in clouds.

Click here to learn more about the 2012 Microsoft Research Faculty Summit.