Events Archive
Event Details
SPARK [FWD] 2014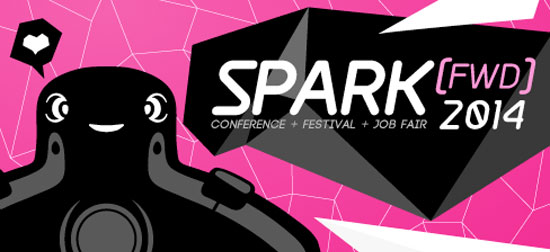 SPARK [FWD] 2014 – CONFERENCE "Celebrating innovation and inspiration".
Sponsored in part by GRAND, the SPARK [FWD] 2014 conference and festival merges SPARK FX and 3D[FWD] Conferences. The combined event encompasses VFX, animation, live action, HFR, S3D, and advanced imaging. In partnership with the Spark CG Society, S3D Centre, and SIGGRAPH, the event features panels and presentations for attendees to gain insight into the evolution and latest techniques of the industry, as well as exposure to recent and leading artistic and technological advancements. This strong presentation series is complemented by screenings chosen to exemplify innovation and excellence in the field. Topping off the event, a high-energy reception provides an opportunity for peers and industry leaders to interact and celebrate.
Festival: February 5 - 9, 2014
Conference: February 6 – 8
Job Fair: February 7 & 8
For more information visit http://sparkfx.ca and http://3dsociety.ca
Past Highlights SPARK FX '13
Scott Ross (Founder of Digital Domain)
Eric Brevig (Director: Yogi Bear, Journey to the Center of the Earth, Pearl Harbor)
Hoyt Yeatman (Director/VFX Supervisor: Jack the Giant Slayer, G-Force, Mighty Joe Young, The Abyss)
Erik-Jan de Boer (Animation Director: Life of Pi)
Joe Letteri, Eric Saindon, R. Christopher White & Dave Clayton (Weta: The Hobbit)
Program available online: http://sparkfx.ca/_files/sparkfx.13.program.pdf
Past Highlights 3D[FWD] 2013
Canadians James Stewart (Director/Producer at Geneva Film Co), Ian Herring (Director/Producer at Parallax Film Productions), Mark Lasoff (Visual Effects Supervisor at Gener8), Colin Jenken (Technical Art Director at Gener8), and James Cowan (DI Manager & Editor at Finale Editworks).
Josh Hollander, Director of 3D Production, Pixar Animation Studios (Monsters University, Brave, Up, Toy Story 3)
Robert Neuman, Stereographic Supervisor, Disney Animation Studios (Wreck-It Ralph, Get a Horse!, Tangled, 3D for The Lion King, The Little Mermaid)
Hugh Murray, Senior Vice President, IMAX Entertainment (Harry Potter and the Deathly Hallows Part 2, Walking on the Moon 3D, The Polar Express)
Grant Anderson, Executive Director, Sony 3D Technology Center (The Green Hornet, Cloudy with a Chance of Meatballs, Beowolf)
Last year's program: http://3dsociety.ca/wp-content/uploads/2013/11/Program-3DFWD-Final.jpg
SPARK [FWD] 2014 is currently seeking presenters for topics in VFX and advanced imaging, sponsors. New this year is a boardroom serving as a space for demonstrations & workshops sessions. In adding a third day to the conference this year, and we are expecting an anticipated 1,000+ attendees at this 2014 event based on previous events.
Contact: Denise Quesnel (ECUAD) dquesnel@ecuad.ca