Events Archive
Event Details
GRAND 2014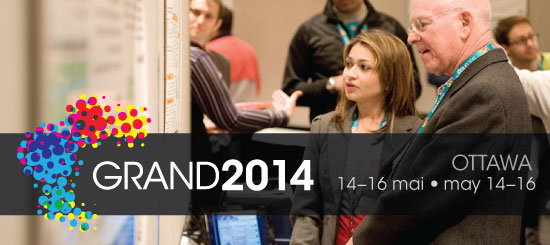 GRAND 2014 will showcase a multi-disciplinary program of research and innovation from across Canada, spanning the broad spectrum of digital media.
Over the years, the event has become a significant platform for exchange and networking among Canadian digital media researchers. This year's conference will see invited speakers, panelists and industry guests join over 300 Canadian researchers and scholars in discussions on some of the latest advancements in digital media research.
As well as an exciting line-up of discussion panels, Plenary Speakers will include Kurt Akeley, CTO, Lytro and Gilad Lotan, Chief Data Scientist, betaworks.
The conference will also feature an opening reception showcasing Posters and Demos from university research labs at our 26 member universities, Research Note presentations by GRAND HQP, the wonderfully frenetic 2-Minute Madness, the 2014 Canadian Digital Media Pioneer Awards, and much more.
For more information and to register visit the GRAND 2014 website.