Events Archive
Event Details
Evolution of Gaming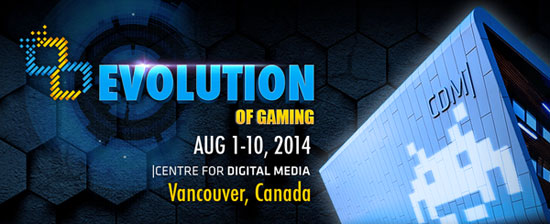 GRAND is proud to sponsor EVOLUTION, an immersive, interactive exhibition exploring the history of gaming from its roots to its future. The curated games will take visitors through the game industry's amazing roots, and show how video games inspired and captured the hearts of an entire generation. EVOLUTION will be held August 1-10, 2014 at the Centre for Digital Media in Vancouver, BC.
EVOLUTION presents a world of pixels and polygons where ideas, interactivity and gameplay merge into an unforgettable experience that will take participants back one more time. The 2014 experience will focus on retro gaming and its influence moving forward. Each installation will be designed to bring you back in time, or for the younger crowd, to help create a visceral experience that capture the excitement and thrill of playing these games for the first time.
Around the exhibit, various rooms/lounges and displays will be used to create memorable atmospheres for each game. In addition to playable versions of each game showcased, the displays will themselves be immersive experiences, capturing the elements of each game and how they contributed to the ecosystem of gaming at that time (and how they continue to influence games today).
The Full Indie Games Summit occurs concurrently with Evolution in 2014, providing an interesting link as many of the original games were in fact independently made, and the connection of this tradition continues forward to today.
Read the CDM's blog post about the event.